Banana & Toffee Pie with Pecan Crust
Autumn 2018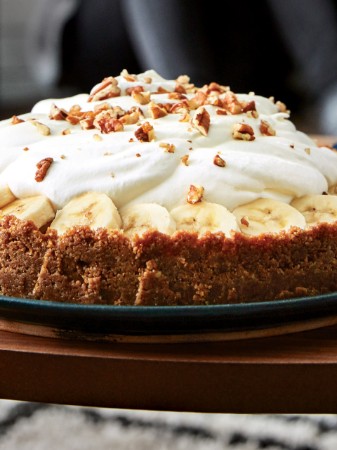 Banana & Toffee Pie with Pecan Crust
Autumn 2018
BY: Tonia Wilson-Vuksanovic
This pie takes very little effort to make and yields great results. Bananas and a toffee custard are perfect dessert companions. If desired, add a splash of dark rum to the whipped cream to make it even more special.
CRUST
9 oz (255 g) ginger snap cookies
½ cup (125 mL) pecans, toasted
½ cup (125 mL) unsalted butter, melted

TOFFEE CUSTARD
⅓ cup (80 mL) unsalted butter
1 cup (250 mL) dark brown sugar, lightly packed
3 tbsp (45 mL) cornstarch
1 cup (250 mL) whole milk, divided
3 large egg yolks
1 tsp (5 mL) vanilla
¾ cup (175 mL) 35% whipping cream
2 tbsp (30 mL) granulated sugar
4 ripe bananas
Extra brown sugar or chopped pecans for garnish
1. For the crust, place cookies and pecans in a food processor and pulse until small crumbs are created, like the texture of coarse sand. With the motor running, pour in melted butter.

2. Place all the crust mixture in a 9-inch (23‑cm) springform pan and pack it down using a flat bottom drinking glass. Press enough crumbs up the side of the pan to also create a 1-inch (2.5-cm) side to the pie shell. Place in refrigerator for at least 20 minutes to solidify.

3. For the toffee custard, in a small saucepan over low heat, melt butter. Add brown sugar and cook over low heat until dissolved, about 3 minutes. Set aside.

4. In a small bowl stir together cornstarch and ¼ cup (60 mL) of the milk until cornstarch dissolves. Pour remaining milk and cornstarch mixture into pan with butter and sugar mixture. Return to heat and slowly bring to the boil over medium-high heat, continually whisking to avoid clumping or scorching.

5. Once the liquid has come to the boil and thickened, whisk for a minute longer. Remove from heat and immediately whisk in egg yolks and vanilla. Set aside to cool slightly for 5 minutes.

6. Whisk mixture and place in prepared pie shell; jiggle pan to evenly distribute. Return to refrigerator for 20 minutes.

7. Meanwhile, using a hand mixer, whip cream until soft peaks form, add sugar and continue to whip until semi-firm peaks form.

8. Place banana slices decoratively on top of the toffee custard, top with whipped cream and garnish with a sprinkling of brown sugar or chopped pecans if desired.
SHARE