Balsamic-Glazed Heritage Chickens
Holiday 2020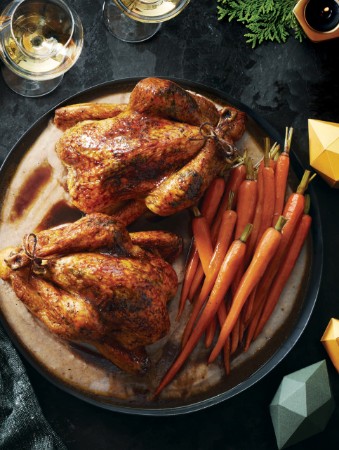 Balsamic-Glazed Heritage Chickens
Holiday 2020
BY: Christopher St. Onge
Ontario is now home to a number of heritage-breed chicken farms. The birds are typically pasture-raised on small-scale family-owned farms. Craft butchers are stocking these birds in part because they taste superior but also because customers are increasingly demanding more ethical farming practices. The recipe calls for two small heritage chickens. The breed is less important than the size. Seek them out from better butchers or, in a pinch, substitute with organic chickens from the supermarket.
2 heritage chickens, each 2 1/2 to 3 lbs (1.13 to 1.36 kg)
1/4 cup (60 mL) salted butter, softened
1 tbsp (15 mL) chopped sage
1 tsp (5 mL) chopped rosemary
2 tsp (10 mL) salt
1/4 tsp (1 mL) freshly ground black pepper
2 tbsp (30 mL) aged balsamic vinegar
2 tbsp (30 mL) honey
2 tbsp (30 mL) chicken stock or water
1. Preheat oven to 375°F (190°C).

2. Work your index finger between the skin and flesh to loosen it from the breast and legs of each chicken. In a small bowl, stir together butter, sage and rosemary. Work an equal amount of mixture under the skin of each bird, doing your best to cover the breasts and top of the legs. Season chickens all over with salt and pepper.

3. Arrange on a rack set over a baking tray and roast for 45 minutes.

4. Meanwhile, combine balsamic vinegar and honey in a small pot over medium heat; bring to a boil and reduce until slightly syrupy, about 3 minutes.

5. Brush about half the glaze over chickens; reserve remaining glaze. Return birds to oven and roast for 10 to 15 minutes longer (depending on size) until juices run clear or a thermometer inserted into the thickest part of the thigh registers 165°F (74°C). Remove to a board and let rest for 10 minutes.

6. Remove as much fat as you wish from the pan drippings; stir in reserved glaze and chicken stock. Serve drippings alongside birds, Carrots Marsala and Chestnut Polenta.
SHARE