Balsamic Sweet Potato Salad
Summer 2012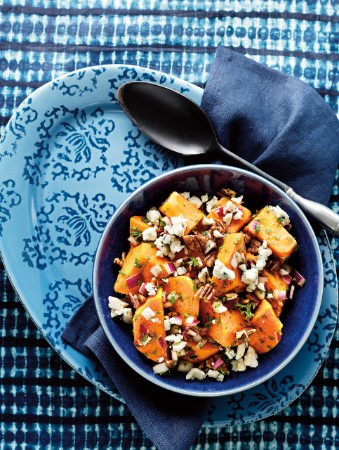 Balsamic Sweet Potato Salad
Summer 2012
BY: Heather Trim
The trick to making a good sweet potato salad is making sure the potatoes don't get overcooked and go mushy. White balsamic is available in most supermarkets and is used in this recipe so as not to discolour the potatoes.
1½ lbs (750 g) sweet potatoes, about 2 large
3 tbsp (45 mL) white balsamic vinegar
½ cup (125 mL) chopped red onion
¼ cup (60 mL) coarsely chopped pecans, toasted
3 tbsp (45 mL) chopped parsley
2 tbsp (30 mL) olive oil
½ tsp (2 mL) salt
⅛ tsp (0.5 mL) cayenne pepper
½ cup (125 mL) crumbled blue cheese or feta
1 Peel sweet potatoes and cut into 1-inch (2.5-cm) chunks. Place in a pot and add enough cold salted water to cover. Bring to a boil, then cover and simmer gently until potatoes are just tender, 3 to 5 minutes. Be careful not to overcook (see TIP for microwave instructions).

2 Drain well, place in a bowl and toss with 1 tbsp (15 mL) balsamic vinegar. Once cool, stir in red onion, pecans and parsley. 3 Whisk remaining vinegar with oil, salt and cayenne. Toss with potatoes, then sprinkle with cheese and gently toss again.

Serves 4 to 6

TIP Wash sweet potatoes but don't peel. Prick each potato several times, and then place on paper towel in microwave.

Microwave on medium-high 5 minutes, then turn potatoes over and continue to microwave on medium-high for 3 to 7 more minutes. Sweet potatoes should be tender but not mushy. The time will vary and could be longer based on microwave's wattage. Peel and cut into 1-inch (2.5-cm) chunks and proceed to step 2.
SHARE