Baked Stuffed Fish
Spring 2015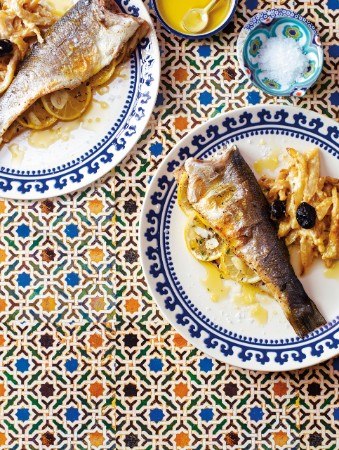 Baked Stuffed Fish
Spring 2015
BY: Lucy Waverman
When I was in Turkey, we had baked fish everywhere. It was prepared simply, often grilled or roasted. The fish varied, but Mediterranean sea bass works beautifully. It is easy to make and very flavourful. The gratin is the perfect accompaniment.
4 garlic cloves, skin on
4 Mediterranean sea bass, spigola or orata, butterflied, about 12 oz (375 g), cleaned
¼ cup (60 mL) olive oil
Salt and freshly ground pepper
2 tsp (10 mL) finely chopped thyme
2 tsp (10 mL) finely chopped oregano
12 very thin lemon slices

GARNISH
2 tbsp (30 mL) extra virgin olive oil
Maldon salt
1 Preheat oven to 450°F (230°C).

2 Bring a small pot of water to a boil. Add garlic cloves and cook for 3 minutes. Drain and slip skin off cloves. Slice garlic very thinly. Reserve.

3 Pat fish dry. Run the blunt side of a knife along fish skin to remove excess liquid. Place on an oiled baking sheet.

4 Brush the inside and outside of each fish with oil. Season all sides with salt and pepper. Open the fish and sprinkle the herbs evenly over the flesh. Scatter a few slices of garlic inside each fish. Place 3 lemon slices over one side of the fish, then close.

5 Bake for 10 minutes or until skin is crisped and fish is cooked. Remove head. While pan is hot, lift fish from pan so it doesn't stick, and transfer to plate. Remove lemons, if desired, and use as garnish. Drizzle with olive oil and finish with Maldon or other salt.
SHARE