Baked Potato Soup
Hiver 2009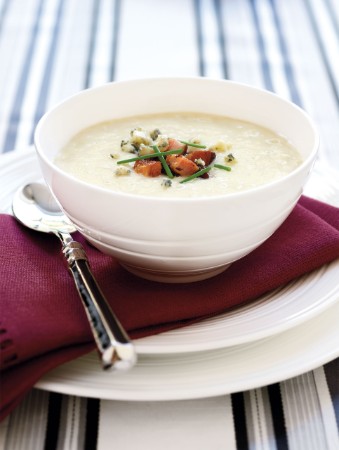 Baked Potato Soup
Hiver 2009
BY: Nicole Young
This simple soup is the ideal way to begin a winter lunch. It can easily be made ahead and gently warmed before serving. Dress it up with your favorite baked potato toppings like slivered green onions, shredded old cheddar or crumbled blue cheese. In this version, it has been very simply sprinkled with delicate chives.
½ cup (125 mL) chopped double smoked bacon
1 cup (250 mL) chopped leeks (white and light green part only)
3 cups (750 mL) peeled, diced potatoes
½ tsp (2 mL) each salt and white pepper
1 cup (250 mL) dry white wine
3 cups (750 mL) chicken broth
½ cup (125 mL) 10% sour cream
¼ cup (50 mL) finely chopped chives
1. In a large heavy saucepan, cook bacon over medium-high heat, stirring often, until crispy, about 6 minutes. Using a slotted spoon, remove bacon and reserve for garnish. Drain all but 1 tbsp (15 mL) of the fat from the pan. Add leeks and cook until softened, add potatoes, salt, and pepper, scraping any bits from the bottom of the pan. Pour in wine and cook until reduced by half; pour in chicken broth and reduce heat to maintain a simmer until potatoes are very tender about 15 minutes. Let cool slightly.

2. Using a blender, purée soup in batches until creamy and smooth. Stir in sour cream. Serve in warmed soup bowls topped with bacon and chives.
SHARE