Baked Ham with Sour Cherry Compote
Spring 2004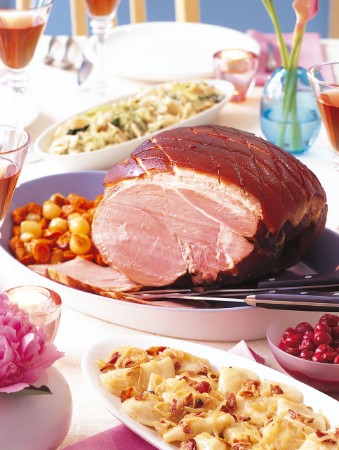 Baked Ham with Sour Cherry Compote
Spring 2004
BY: Jennifer MacKenzie
Historically, to celebrate spring and the end of Lent, a roast suckling pig was often served. Today, a roast ham is a more common centrepiece for the festive table. The compote offers a sweet and tangy accompaniment to the smoky flavour of ham. If you prefer to use dried cherries in place of those in a jar, use a 6 oz (175 g) package of dried cherries and 2 1/2 cups (625 mL) of cherry nectar or water, adding the dried cherries at the same time as the liquid.
One 10 to 12 lb (4.5 to 5.5 kg) bone-in smoked ham
2 lbs (1 kg) carrots, cut into chunks
8 oz (250 g) pearl onions, peeled
2 tbsp (25 mL) butter, melted
Salt and freshly ground pepper

Compote
One 28 oz (796 mL) jar sour cherries
2 tbsp (25 mL) butter
1 small onion, finely chopped
1 clove garlic, minced
1/2 cup (125 mL) packed brown sugar
1/2 tsp (2 mL) dry mustard
One 3-inch (8-cm) cinnamon stick
6 whole cloves
1 tbsp (15 mL) cornstarch
2 tbsp (25 mL) lemon juice
1. Preheat oven to 325ºF (160ºC).
2. Place ham in roasting pan, skin-side up. Toss carrots and onions with butter and season with salt and pepper. Sprinkle into pan around ham. Roast uncovered for 2 1/2 hours.
3. While the ham is roasting, prepare the compote. Drain cherries, reserving juice; set both aside. Melt butter over medium heat in a saucepan. Add onion and garlic, stirring, until soft. Add reserved cherry juice, sugar, dry mustard, cinnamon stick and cloves and bring to boil, stirring until sugar is dissolved. Boil gently until reduced by about half, about 10 minutes. Whisk cornstarch with lemon juice and gradually stir into sauce. Reduce heat to medium-low and cook stirring until thick and glossy, 1 to 2 minutes. Stir in cherries. Remove from heat and cover to keep warm.
4. Spoon off 1/4 cup (50 mL) of the compote sauce, avoiding the cherries. Remove ham from oven and score skin in a criss-cross pattern. Brush all over with 1/4 cup (50mL) of just-scooped off sauce. Roast for about 30 minutes longer or until meat thermometer reads 140ºF (60ºC). Spoon vegetables into a warmed serving dish and keep warm. Let ham stand for 15 minutes before carving.
5. While ham is standing, return compote sauce to medium heat and heat to steaming. Discard cinnamon stick and cloves. Season with salt and pepper. Serve slices of ham with compote.
Makes 8 to 10 servings (with leftovers)
SHARE