Baked Chicken and Mushrooms
Autumn 2007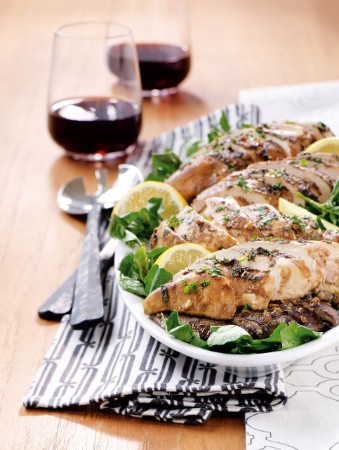 Baked Chicken and Mushrooms
Autumn 2007
BY: Lucy Waverman
A simple dish for families that takes no time to make. You can grill the chicken and mushrooms rather than bake them if you wish. Serve with sautéed potatoes.
¼ cup (50 mL) olive oil
2 tbsp (25 mL) balsamic vinegar
1 tsp (5 mL) chopped garlic
1 tbsp (15 mL) chopped fresh sage leaves
1 tbsp (15 mL) Dijon mustard
4 boneless skinless chicken breasts, about 2 lbs (1 kg)
4 portobello mushrooms, stems removed
Salt and freshly ground pepper
1 bunch watercress stems trimmed
2 tsp (10 mL) lemon juice
2 tbsp (25 mL) chopped mint
1. Combine oil, vinegar, garlic, sage leaves and mustard in a large bowl. Add chicken and mushrooms and toss to coat. Marinate for 30 minutes. Season with salt and pepper.

2. Preheat oven to 400°F (200°C).

3. Thickly slice mushrooms and reassemble in an ovenproof casserole. Lay 1 chicken breast on top of each sliced mushroom and scrape any remaining marinade onto chicken. Bake for 25 minutes or until chicken juices are clear. Remove from oven and slice chicken breasts into thick slices.

4. Place watercress on a serving dish. Top with mushrooms and sliced chicken. Sprinkle with lemon juice, mint and any pan juices.
SHARE