Baked Baby Carrot Gratin with Horseradish Crumbs
Spring 2003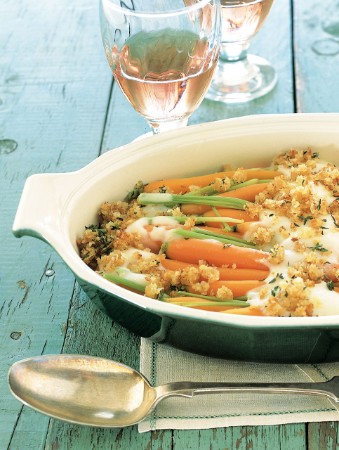 Baked Baby Carrot Gratin with Horseradish Crumbs
Spring 2003
BY: Marilyn Bentz-Crowley and Joan Mackie
Ideal for a buffet dinner or a family celebration, this can-do-ahead vegetable gratin combines numerous textures and surprising flavours to perfection.
2 lbs (1 kg) baby carrots

Velouté Sauce
2 tbsp (25 mL) butter
1 small onion, finely chopped
3 tbsp (45 mL) flour
2 1/2 cups (625 mL) vegetable or chicken stock
2 tsp (10 mL) lemon juice
1 tsp (5 mL) Dijon mustard

Crumb Topping
1 cup (250 mL) fresh white bread crumbs
1/2 cup (125 ml) grated Parmesan cheese
1 tbsp (15 mL) horseradish, squeezed dry
2 tsp (10 mL) chopped fresh thyme
1/4 tsp (1 mL) salt
1/4 tsp (1 mL) pepper
2 tbsp (25 mL) butter, melted


1. Preheat oven to 375°F (190°C).
2. Butter an oval gratin dish measuring about 8 1/2 x 12-inches (21 x 30-cm) or a 7 x 11-inch (18 x 28-cm) baking dish. Bring a large pot of salted water to the boil. Add carrots and boil 8 to 10 minutes or until cooked but still crisp. Drain and spread in prepared dish.
3. While carrots are cooking, make sauce. Melt butter in a medium saucepan over medium heat. Add chopped onion; sauté 5 minutes or until softened. Stir in flour and cook for 1 minute, stirring constantly. Remove pan from heat; gradually stir in stock. Return to medium heat; stir until mixture thickens and boils, about 10 minutes. Add lemon juice and mustard. Strain through a fine sieve; pour over top of carrots.
4. Combine bread crumbs, cheese, horseradish, thyme, salt and pepper. Stir in butter. Scatter crumb mixture evenly over carrots. Bake 20 minutes or until sauce bubbles and topping is crisp and brown. If making ahead, do not bake. Cover and refrigerate until needed. Bake cold gratin 35 to 40 minutes or until sauce bubbles and topping is crisp and brown.
SHARE