Baja Tuna Cakes
Early Summer 2014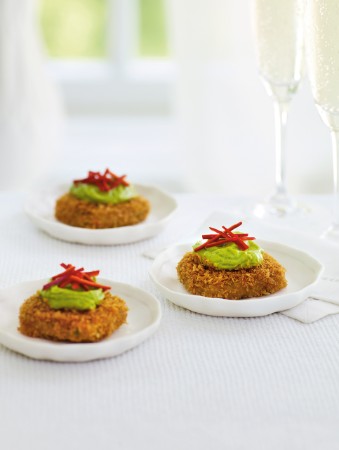 Baja Tuna Cakes
Early Summer 2014
BY: Monda Rosenberg
These cakes, tweaked with grated lime zest, hot Mexican peppers and fresh coriander, are definitely a step up from the usual crab cakes. The crispy coated morsels let the luxurious flavour of fresh tuna shine through. It's like the best of sushi meets superlative seafood cakes.
8 oz (250 g) fresh tuna
1 egg
1 egg white
2 tbsp (30 mL) mayonnaise
½ tsp (2 mL) salt
1¼ cups (310 mL) panko crumbs, divided
Peel of 1 lime, finely grated
2 tsp (10 mL) finely chopped, seeded jalapeño or serrano pepper(optional)
¼ cup (60 mL) finely chopped coriander
1 tbsp (15 mL) each butter and oil
Guacamole and slivered red pepper to garnish
1 Place tuna in freezer to firm; this will make it easier to coarsely chop. Whisk egg and egg white, mayonnaise and salt in a medium-size bowl. Stir in ½ cup (125 mL) panko crumbs, lime peel, jalapeño and coriander. Let sit 20 minutes so panko will absorb some of the liquid. Meanwhile, coarsely chop cold tuna and then pulse in food processor until roughly ground.

2 When egg mixture has set 20 minutes, add tuna and knead with your fingers to evenly mix. Scoop up a rounded tbsp (15-plus mL) and use wet hands to form into a compact square patty, about 2 inches (5 mL) wide and ⅓ inch (8 mm) thick. Place on waxed paper on a baking sheet. Repeat until mixture is used. Refrigerate 30 minutes to chill or, if making ahead, cover with plastic wrap and refrigerate up to a day.

3 To cook, preheat oven to 200°F (100°C).

4 Measure ¾ cup (175 mL) panko crumbs into a shallow bowl. Heat butter and oil in a medium-size skillet over medium heat. Lightly coat a patty with panko crumbs and slip into the pan. Repeat with 3 more patties. Cook until golden, about 20 to 30 seconds per side. Remove to a baking sheet and place in oven. Repeat with remaining mixture, adding more oil and butter to pan when needed. Serve warm cakes topped with guacamole and slivered red pepper for garnish.
SHARE