Baileys Irish Cream Mousse
Printemps 2011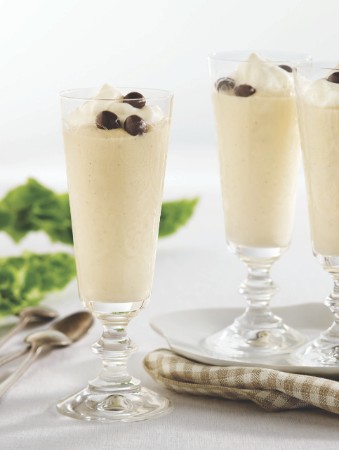 Baileys Irish Cream Mousse
Printemps 2011
BY: Julia Aitken
If you enjoy sipping a Baileys Irish Cream after dessert, you'll love it even more as dessert.
1½ cups (375 mL) whipping cream
4 egg yolks
¼ cup (50 mL) granulated sugar
1 vanilla bean
1½ tsp (7 mL) unflavoured gelatin
⅔ cup (150 mL) Baileys Irish Cream
Chocolate-covered coffee beans for garnish
1 In a small heavy saucepan, whisk together ¼ cup (50 mL) cream, the egg yolks and sugar. Slit vanilla bean in half lengthwise and, with the tip of a knife, scrape seeds into saucepan (reserve bean for use in another recipe).

2 Cook egg-yolk mixture over medium-low heat, whisking often, for about 8 minutes or until mixture thickens. Do not let mixture boil or it will curdle. Remove saucepan from heat and set aside.

3 In a small glass measure, sprinkle gelatin over 2 tbsp (25 mL) cold water and let stand for about 1 minute until puffy. Stand measure in a small saucepan of simmering water and heat, stirring occasionally, for about 2 minutes or until gelatin dissolves completely.

4 Whisk gelatin into egg-yolk mixture until well combined. Whisk in Baileys. Pour mixture into large bowl and refrigerate for about 20 minutes, whisking occasionally, until mixture has thickened slightly and is chilled.

5 In a medium bowl, whip remaining cream until it holds stiff peaks. Spoon about ⅓ cup(75 mL) whipped cream into a small bowl to use as garnish. Cover and refrigerate. Fold remaining cream into Baileys mixture until well combined and no white streaks remain.

6 Divide mousse evenly among 4 individual dessert glasses. Refrigerate for at least 2 hours or until firm. (Mousse can be prepared up to 24 hours in advance.) Garnish with reserved whipped cream and chocolate-covered coffee beans.



SHARE