Bagel Bits with Pesto
Autumn 2013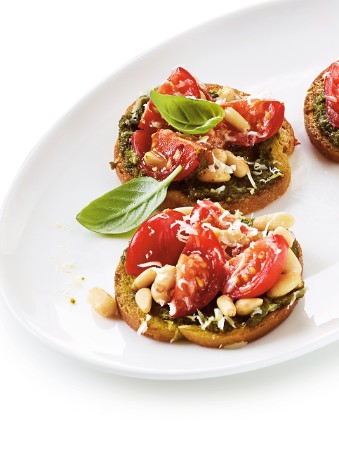 Bagel Bits with Pesto
Autumn 2013
BY: Marilyn Bentz-Crowley
This recipe was selected as one of our Editor's favourites in our 20th Anniversary Autumn 2013 issue. The recipe originally appeared in our Autumn 2007 issue.

Pesto is showcased in these morsels full of Mediterranean flavours. Italian grocery stores often sell freshly made pesto—or make your own—which has much better flavour than pesto found in jars on store shelves. Some bagel bits are round, others are quite irregular-all are delicious.
6 oz (175 g) bag bagel crisps or chips, preferably sea-salted
16 to 18 grape or cherry tomatoes
1/3 cup (75 mL) fresh basil pesto
½ cup (125 mL) coarse, freshly grated Parmesan cheese
2 tbsp (25 mL) raw pine nuts
1 If chips are irregular, break any whole chips into halves or thirds. Quarter each tomato lengthwise; then cut in half crosswise forming 8 pieces. Spread out on a double layer of paper towels to drain.

2 Spread chips thinly with pesto; lay close together on a heavy baking sheet lined with parchment paper or coated with nonstick spray. Top with drained tomatoes; sprinkle with cheese and pine nuts. (If making ahead, cover with plastic wrap and refrigerate for up to half a day.)

3 To serve, preheat oven to 350°F (180°C).

4 Bake, uncovered, for 8 to 10 minutes or until hot and pine nuts are golden. Serve right away.
SHARE