Bacon, Cauliflower and White Bean Soup
Temps des Fêtes 2010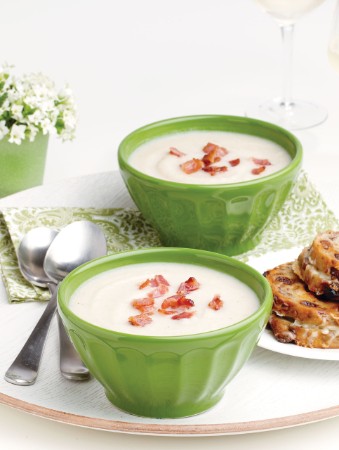 Bacon, Cauliflower and White Bean Soup
Temps des Fêtes 2010
BY: Tonia Wilson-Vuksanovic
This healthy and hearty soup is great to have in the fridge as a quick standby for lunches and dinners. It is a cinch to make and requires very minimal preparation. To speed up the process further use frozen cauliflower florets instead of fresh—the taste difference is barely noticeable.
1 tbsp (15 mL) olive oil 1/2 lb (250 g) bacon, sliced into 1/2-inch (1-cm) pieces
2 cups (500 mL) onions, chopped
2 tbsp (25 mL) garlic, finely chopped
2 tsp (10 mL) fresh thyme, finely chopped
1/2 cup (125 mL) white wine (optional)
1/4 tsp (1 mL) white pepper
8 cups (2 L) cauliflower florets
8 cups (2 L) chicken stock
2 cans (540 mL each) white kidney beans, drained well
1 In a large pot, heat oil over medium heat, add bacon and sauté until golden, about 15 minutes. Remove bacon from pot with slotted spoon and set aside to cool. Once cooled, crumble bacon and save as garnish.

2 Add onions, garlic and thyme to pot, cook over low heat until onions are translucent, about 10 minutes. Add wine and continue cooking for 3 minutes.

3 Add white pepper, cauliflower, chicken stock and beans. Bring to the boil and then lower to simmer. Cover and cook for 20 minutes or until the cauliflower is tender.

4 Let cool slightly. When the soup is cool enough, purée with a hand blender until velvety smooth. Serve warm, sprinkled with crumbled bacon, and accompanied by Gruyère & Raisin Bread Sandwiches.


SHARE