Baby Spinach, Avocado & Endive Salad with Honey-Lime Dressing
Début de l'été 2011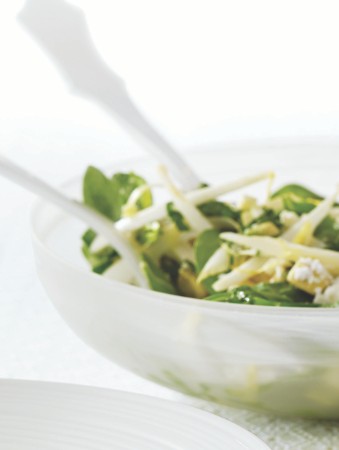 Baby Spinach, Avocado & Endive Salad with Honey-Lime Dressing
Début de l'été 2011
BY: Heather Trim
Pretty greens herald the beginning of summer. When choosing honey, read the label. So many are a blend from around the world—not the delicious local or domestic honey you may have expected.
¼ cup (50 mL) olive oil
3 tbsp (45 mL) lime juice
1 tbsp (15 mL) liquid honey
½ tsp (2 mL) Dijon mustard
1 small garlic clove, minced
Salt and pepper to taste

SALAD
1 large Belgian endive
½ cup (125 mL) mint leaves
8 cups (2 L) baby spinach, about a 142-g pkg
1 large ripe but firm avocado, diced
4 oz (125 g) piece feta, crumbled


1. Whisk oil with lime juice, honey, Dijon, garlic, salt and pepper until blended.

2. Slice endive in half lengthwise. Cut out and discard core. Then thinly slice. Stack mint leaves, then thinly slice. Place both in a salad bowl along with spinach. Toss. Add avocado and feta.

3. Drizzle with as much dressing as you need to coat. Toss gently.


SHARE