Baby Back Ribs on Maple Planks
Summer 2011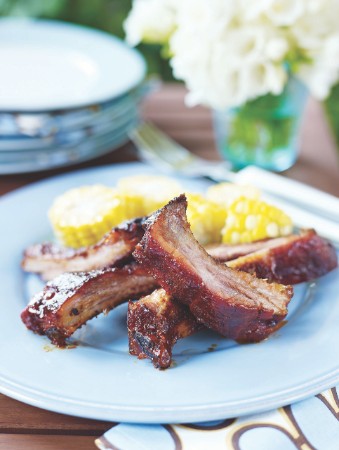 Baby Back Ribs on Maple Planks
Summer 2011
BY: James Chatto
This recipe, best suited to a gas or propane barbecue with individual left and right side controls, brings flavour to the meat in three ways—a rub, a sauce and, because the ribs are cooked very slowly on two pre-soaked Maplewood planks, moist flavourful smoke. While one to two hours soaking time is enough to prevent the wood from burning too quickly, allowing them to soak overnight is ideal.You'll need two 12 x 6-inch (30 x 15-cm) maple planks, each big enough to hold a single rack of ribs. Eating with your fingers is one of the greatest bits about a backyard cookout, so do away with the forks altogether and serve the ribs alongside buttery corn on the cob.
BARBECUE SAUCE
1 cup (250 mL) apple juice
¾ cup (175 mL) ketchup
3 tbsp (45 mL) cider vinegar
2 tsp (10 mL) light soy sauce
1 tsp (5 mL) Worcestershire sauce
1 tsp (5 mL) molasses
½ tsp (2 mL) chili powder
½ tsp (2 mL) garlic, minced
¼ tsp (1 mL) black pepper

RUB
1 tsp (5 mL) paprika
1 tsp (5 mL) chili powder
1 tsp (5 mL) thyme
1 tbsp (15 mL) garlic powder
1 tsp (5 mL) brown sugar
1 tsp (5 mL) dry mustard
1 tsp (5 mL) kosher salt
1 tsp (5 mL) black pepper
2 full slabs baby back ribs
1 To make sauce, combine all ingredients in a medium saucepan. Cook over high heat until reduced by half, or about 1 cup (250 mL).

2 To make rub, add all ingredients to a small bowl and stir to combine.

3 Peel the thin membrane off the back of the ribs (this helps the meat cook more evenly and absorb more flavour while cooking). Using your fingertips, rub the meat liberally with the rub, wrap in plastic wrap and refrigerate for 1to 3 hours.

4 Meanwhile, soak maple planks in water for 1 to 2 hours.

5 Ignite grill, turn to high and preheat for 10 minutes. Turn 1 side off leaving the other on, and place planks on the side that has been turned off. Close lid and wait for the planks to begin to crackle and smoke, between 3 to 5 minutes. Turn planks over and place a rack of ribs on each plank, reduce heat to low, and close lid. Maintain a temperature range between 275-300°F (140-150°C) and cook for 3hours.

6 Brush both sides of ribs liberally with barbecue sauce and continue cooking with the lid closed for an additional hour. Ribs are done when the sauce has become sticky and the meat separates easily from the bones.
SHARE