BBQ Lamb with Roasted Vegetables
Early Summer 2011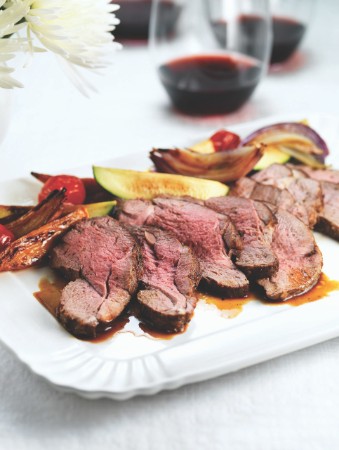 BBQ Lamb with Roasted Vegetables
Early Summer 2011
BY: Lucy Waverman
Australians breed huge amounts of lamb. They have mastered the art of barbecuing the different cuts and it is often matched with Shiraz.
LAMB
1 boned and butterflied leg of lamb, 3 lbs (1.5 kg)
3 cloves garlic, thinly sliced
3 tbsp (45 mL) olive oil
2 tbsp (25 mL) slightly chopped fresh rosemary
1 tsp (5 mL) hot or mild smoked
Spanish paprika
Kosher salt and freshly ground pepper

ROASTED VEGETABLES
2 red onions, peeled
2 sweet potatoes, peeled
2 zucchini
1 lb (500 g) cherry tomatoes
3 tbsp (45 mL) olive oil
1 tbsp (15 mL) balsamic vinegar


1. Cut little slits all over lamb with a small sharp knife. Stuff garlic slices into slits.

2. Combine olive oil, rosemary and smoked Spanish paprika; brush over lamb. Season well with salt and pepper.

3. Preheat oven to 450°F (230°C).

4. Cut vegetables into 1-inch-thick (2.5-cm) wedges. Toss cherry tomatoes, onions, sweet potatoes and zucchini with olive oil and season with salt and pepper. Place onions, sweet potatoes and zucchini in a single layer on an oiled baking sheet and bake for 15 minutes. Turn vegetables over. Toss cherry tomatoes with balsamic vinegar and add to sheet. Bake another 15 minutes or until vegetables are browned and cherry tomatoes are about to burst.

5. Heat grill to high. Sear each side of lamb for about 2 minutes or until browned. Turn off 1 burner and reduce heat to medium on remaining burner(s). Roast lamb in barbecue for 25 to 35 minutes. Try to keep grill temperature about 425°F (220°C).

6. Remove lamb from barbecue and let rest for 10 minutes before slicing into thin slices. Serve surrounded by the vegetables and with a non-jellied mint sauce or a minty salsa or pesto on the side.


SHARE