BBQ Brisket Sandwiches with Sun-Dried Tomato Sauce
Early Summer 2008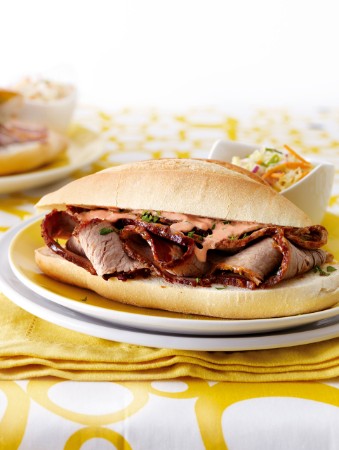 BBQ Brisket Sandwiches with Sun-Dried Tomato Sauce
Early Summer 2008
BY: Marilyn Bentz-Crowley
A large brisket on indirect grilling takes over 3 hours to tenderize and become flavourful enough for a Texan to be proud. Is it worth it? It is indeed. These sandwiches are piled high with scrumptious beef slices and ooze tart-sweet, sun-dried tomato sauce reminiscent of tangy Russian dressing. Select either the leaner flat-end cut or the juicier, harder-to-slice but more tender, point-cut (see Tip below).
Wet-Rubbed Brisket
3 tbsp (45 mL) demerara or dark brown sugar
2 tbsp (25 mL) paprika
1 tbsp (15 mL) fine sea salt
1 tsp (5 mL) smoked salt or sea salt with 2 drops liquid smoke
2 tsp (10 mL) freshly ground black pepper
1½ tsp (7 mL) Dijon mustard
2 large garlic cloves, minced
1 small yellow onion, finely grated
5 to 6 lb (2.2 to 2.7 kg) piece beef brisket

Sun-dried Tomato Sauce
½ cup (125 mL) boiling water
1 small shallot, thinly sliced
1 large garlic clove
12 large dry pack sun-dried tomatoes, about 1½ oz (45 g)
2 tbsp (25 mL) freshly squeezed lemon juice
1 tbsp (15 mL) olive oil
2 tbsp (25 mL) chopped fresh basil
2 tbsp (25 mL) chopped fresh parsley
2 tbsp (25 mL) demerara or dark brown sugar
⅛ tsp (0.5 mL) smoked salt or sea salt plus 1 drop liquid smoke
1½ cups (375 mL) mayonnaise, preferably olive oil variety
10 to 12 buns such as crusty ciabatta or Italian, or soft Portuguese
1. In a small bowl, stir sugar with paprika, salts and black pepper. Add mustard, garlic and onion; work into a paste. Rub beef all over with paste. Cover and refrigerate for at least 6 hours or overnight.

2. To make the sauce, measure boiling water (or heat measured water to boiling in microwave) in a 2 cup (500 mL) glass measure. Drop in shallot, garlic and then sun-dried tomatoes; use a spoon to submerge completely. Soak 10 minutes.

3. Add juice, oil, herbs, sugar and salt to blender jar; top with soaked tomato mixture. Whirl until pretty much puréed with some bits of tomato visible; stop and scrape down sides of jar as needed. Turn into a mixing bowl; stir in mayonnaise. Cover and refrigerate for up to several days; stir again before serving.

4. When ready to barbecue, make sure propane tank is full. Preheat all burners of barbecue until thermometer on closed lid registers 200° to 210°F (95° to 100°C). Then turn off burner(s) until just 1 is left on high heat (a rotisserie burner can be used).

5. Remove beef from refrigerator; place on a shallow metal tray or foil lasagna pan. Place on barbecue over unheated burner or towards front away from rotisserie burner. Close lid. Check after 15 minutes and again about every hour to adjust flame on burner so temperature inside barbecue is maintained at 200° to 210°F (95° to 100°C). Any higher and the rub will burn and the meat cook too fast.

6. Slowly barbecue meat, occasionally rotating pan for even browning. Brisket is done when internal temperature with an instant-read or meat thermometer is about 145° to 150°F (63° to 65°C). This takes about 3½ to 4 hours for flat-cut brisket. Add an hour or more for thicker point-cut. Remove from grill; tent with foil and allow to rest 15 to 30 minutes.

7. Cut buns horizontally. Thinly slice meat across grain; pile high onto bun bottom then top with a dollop of sauce. Scatter with additional chopped parsley and replace bun top. Serve with remaining sauce and coleslaw, preferably with a vinaigrette-style dressing, as sun-dried tomato sauce is quite creamy.

Tip: Beef brisket is a hard-working muscle, which means it is tough, but has lots of flavour. The thicker point-end is fattier with muscles going in 2 directions separated by a layer of fat. After grilling this end, cut away the easily identified fat-surrounded layer, trim fat and cut meat across grain. Do the same for lower piece. Flat-cut brisket end is leaner and easier to slice, as there is little separation of layers, but it is not as tender. Both cuts are delicious.
Makes 10 to 12 large sandwiches
SHARE