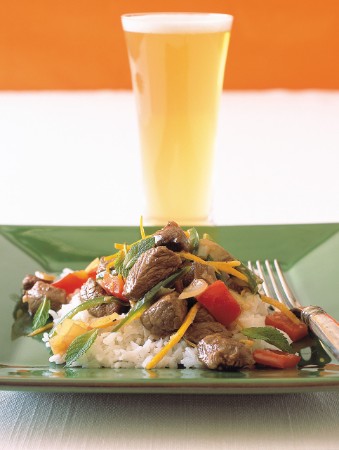 BY: Lucy Waverman
This recipe is based on a famous Sichuan stir-fry with a tangy sauce and lots of chili and orange. This more sophisticated version of the dish uses beef sirloin instead of tougher cuts that need to be marinated longer. Serve with rice.
Two 8 oz (250 g) New York steaks, fat removed

Marinade
2 tbsp (25 mL) orange juice
2 tbsp (25 mL) orange liqueur
2 tbsp (25 mL) soy sauce
1 tsp (5 mL) Asian hot sauce
Salt to taste

Finishing Sauce
1/4 cup (50 mL) vegetable oil
1 tbsp (15 mL) chopped ginger
1 tbsp (15 mL) finely chopped garlic
1 cup (250 mL) diced onions
1 cup (250 mL) diced red pepper
1 tbsp (15 mL) jalapeño pepper, seeded and sliced in julienne strips
2 tbsp (25 mL) orange peel, sliced in julienne strips
1/2 cup (125 mL) chicken stock
1 tbsp (15 mL) soy sauce
2 tbsp (25 mL) orange liqueur
Salt and freshly ground pepper

Garnish
1/4 cup (50 mL) shredded green onion
2 tbsp (25 mL) shredded mint or coriander
1. Slice meat into 1/2-inch (1-cm) dice. Combine orange juice, liqueur, soy sauce and hot sauce in a bowl. Salt meat lightly and toss with marinade. Leave to marinate for 30 minutes on the counter, stirring occasionally. If you marinate longer than an hour, refrigerate.
2. Heat 2 tbsp (25 mL) oil in wok or large skillet on high heat. When very hot add beef in batches (do not over-crowd). Stir-fry for 1 minute or until pink in centre. Remove with slotted spoon and place in strainer over bowl. Fry remaining beef.
3. Wipe out wok. Add remaining oil. Stir in ginger and garlic and stir-fry for 30 seconds or until softened but not brown.
4. Add onions, both peppers and orange peel and stir-fry 1 minute or until slightly softened. Return meat to wok and toss with vegetables. Pour in chicken stock, soy sauce and orange liqueur. Bring to boil. Taste for seasoning adding more soy or salt and pepper, if needed. Pile on platter and garnish with green onion and mint.
SHARE