Prosciutto Parmesan Sticks
Holiday 2006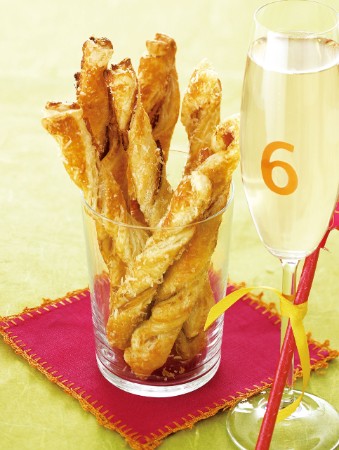 Prosciutto Parmesan Sticks
Holiday 2006
BY: Emily Richards
Frozen Butter Puff Pastry has a rich buttery flavour that is perfect for hors d'oeuvres and a great match to salty prosciutto. Be sure to thaw the puff pastry in the refrigerator overnight before using for best results. A hint of mustard brings the two together.
1 pkg 450 g) frozen butter puff pastry, thawed
1 tbsp (15 mL) Dijon mustard
Pepper
12 thin slices prosciutto
2 tbsp (25 mL) freshly grated parmigiano Reggiano
1. Preheat oven to 425ºF (220ºC).

2. Unroll 1 sheet of the pastry and refrigerate remaining pastry. Brush pastry with half of the mustard.

3. Cut pastry into 12 strips that are about 1 inch (2.5 cm) wide. Sprinkle with a pinch of pepper.

4. Cut 1 slice of prosciutto lengthwise into 2 strips.

5. Place half of the prosciutto on one of the puff pastry strips. Fold uncovered half over prosciutto to cover. Twist strip slightly and place on parchment-paper-lined baking sheet. Repeat with remaining pastry strips and prosciutto. Sprinkle with half of the parmigiano.

6. Bake in centre rack in oven for about 15 minutes or until golden brown and crisp. Let cool slightly.

7. Remove remaining pastry from refrigerator and repeat with remaining ingredients.
SHARE