B'stilla (Moroccan Chicken Pie with Dates)
Temps des Fêtes 2009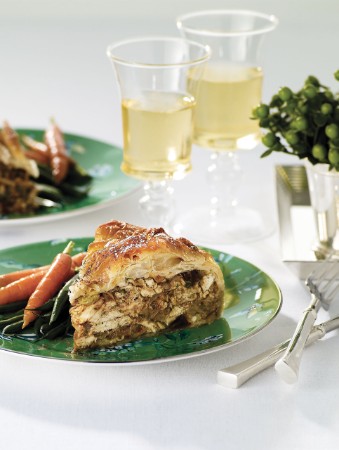 B'stilla (Moroccan Chicken Pie with Dates)
Temps des Fêtes 2009
BY: Tonia Wilson-Vuksanovic
This exotic Moroccan dish marries both savoury and sweet flavours in a stunning presentation. It can be served hot with a side of sautéed green beans and carrots, or enjoyed cold the next day as lunch with some mixed greens sprinkled with pomegranate seeds.
2 tsp (10 mL) vegetable oil
4 chicken breasts, bone in, skin on
4 cups (1 L) onions, finely chopped
1 tbsp (15 mL) garlic, finely chopped
1 tbsp (15 mL) ground cumin
2 tsp (10 mL) ground ginger
1 tsp (5 mL) ground cloves
1 tbsp (15 mL) ground cinnamon
¼ tsp (1 mL) chili flakes
¼ tsp (1 mL) turmeric
1 cup (250 mL) chicken stock or water
Salt
3 large eggs
1 cup (250 mL) dates, coarsely chopped
¼ cup (50 mL) golden raisins (optional)
½ cup (125 mL) fresh cilantro, coarsely chopped
½ cup (125 mL) slivered almonds, toasted
8 sheets phyllo pastry
½ cup (125 mL) unsalted butter, melted
Icing sugar and ground cinnamon for garnish
1. Preheat oven to 375°F (190°C).

2. In a large Dutch oven, heat vegetable oil over medium-high. Sauté chicken breasts until golden brown on both sides, remove from pot. They will not be fully cooked at this point.

3. In the same pot add onions and cook until golden, about 10 minutes. Add garlic, cumin, ginger, cloves, cinnamon, chili flakes and turmeric. Stir for 30 seconds.

4. Place chicken back in pot with onion mixture, add chicken stock and season with salt. Cover with lid, bring to a boil and then reduce to simmer. Simmer over low heat for 20 minutes, and until chicken is cooked through.

5. Remove chicken from mixture and let cool. When cool enough to handle shred the meat off the bone into bite-size pieces.

6. Stir chicken together with the contents of the pot, add eggs, dates, raisins, cilantro and almonds. Combine well and season to taste.

7. Place 1 sheet of phyllo pastry lengthwise on your work surface, brush lightly with melted butter. It does not have to be completely covered.

8. Place a second sheet on top of this, sideways to form a plus sign. Repeat this process until the 8 sheets have been layered; the last sheet does not need to be buttered.

9. Place sheets in a buttered 9-inch (23-cm) cake or springform pan. Fill pastry with chicken mixture and spread out evenly. Enclose by pulling the over hanging pastry up and over the chicken. Brush the top with melted butter.

10. Bake pie for 40 minutes or until pastry is golden and chicken mixture is heated through.

11. Serve hot with sifted icing sugar and ground cinnamon overtop. Icing sugar is a traditional garnish on this dish.
SHARE