Parsnip Twigs
Autumn 2007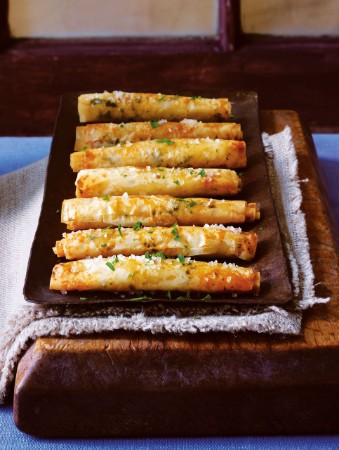 Parsnip Twigs
Autumn 2007
BY: Marilyn Bentz-Crowley
Parsnips look like ivory carrots but are more like sweet potatoes. Their slight sweetness caramelizes nicely. Choose the degree of spicy heat by modifying the amount of cayenne. If unsure, opt for the lesser amount the first time because you will make them again! These enticing nibbles can be frozen for 1 or 2 weeks.
4 medium parsnips, about 8 oz (250 g)
1 tbsp (15 mL) unsalted butter
Pinch of sea salt
1 tsp (5 mL) chopped fresh thyme, or ¼ tsp (1 mL) dried
½ cup (125 mL) fine, freshly-grated Parmesan
1/8 to ¼ tsp (0.5 to 1 mL) cayenne
2 tbsp (25 mL) finely chopped fresh parsley
4 sheets filo pastry (see Tip below)
¼ cup (50 mL) unsalted butter, melted
Pinches of Maldon or other coarse salt
1. Peel parsnips; cut in half crosswise. Then cut lengthwise into batons about ¼ to ½-inch (0.5 to 1-cm) thick. Heat butter in a large frying pan over medium heat. Sauté parsnips for 15 to 18 minutes, stirring frequently, or until golden brown; remove from heat but leave in pan. Sprinkle with sea salt and thyme; cool completely.

2. Stir cheese with cayenne and parsley. Work with 2 filo sheets at a time; keep remainder covered with plastic until needed. Brush 1 sheet with butter; sprinkle with half of cheese mixture.Top with another filo sheet; lightly brush with butter. Cut into twelve 4-inch (10-cm) square pieces (three cuts lengthwise and 4 cuts crosswise should produce approximately this size).

3. Line baking sheet with parchment paper or coat with nonstick spray. Lay a parsnip baton, or 2 if thin, in centre of square allowing about ¼ to ½-inch (0.5 to 1-cm) uncovered filo at each end (if parsnip is too long, nip off a bit of baton). Roll up; brush with more butter.

4. Transfer twigs to prepared baking sheet, seam-side down and slightly apart. Repeat with more filo. Lightly sprinkle twigs with Maldon salt. (Twigs can be covered with plastic wrap and refrigerated for up to half a day. Or freeze on tray; then transfer to an airtight heavy freezer bag once thoroughly frozen. Defrost twigs on prepared baking sheet for 30 minutes before baking).

5. To serve, preheat oven to 400°F (200°C).

6. Bake twigs for 8 to 10 minutes (1 to 3 minutes more if chilled) or until browned and crisp. Serve immediately scattered with remaining parsley.

Tip
Filo pastry is fussy. If allowed to dry out, filo becomes brittle and unusable. Defrost overnight in refrigerator where well-wrapped filo keeps well for a week or more. And if wrapped airtight, still-moist filo can be re-frozen with just a little loss of quality.
SHARE