Avocado with Falafel & Tahini Sauce
Printemps 2017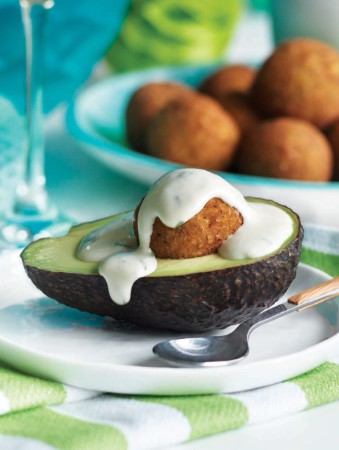 Avocado with Falafel & Tahini Sauce
Printemps 2017
BY: Amy Rosen
Why on earth are you serving your guests avocado halves with the pits still in them? Wait a minute—that's not a pit! This delightful vegetarian course pairs homemade falafel balls with smooth avocado and rich tahini sauce, for a delicious (and surprising) combination.
1 can (540 g) chickpeas, rinsed and drained
1 medium onion, chopped
2 tbsp (30 mL) fresh parsley
½ tsp (2 mL) cumin seeds
½ tsp (2 mL) sea salt
2 tbsp (30 mL) flour
Oil for frying (canola or vegetable)
3 ripe avocados

TAHINI SAUCE
½ cup (125 mL) tahini (sesame seed paste)
1 garlic clove, minced
½ tsp (2 mL) sea salt
2 tbsp (30 mL) olive oil
Juice of 2 lemons
¼ cup (60 mL) warm water
1 tsp (5 mL) minced parsley
1. To a food processor add chickpeas, onion, parsley, cumin, salt and flour. Pulse until combined and smooth.

2. Form the mixture into golf-ball-sized balls and chill for at least 30 minutes.

3. To make tahini sauce, stir together all ingredients until smooth. If too thick, add 1 to 2 tbsp (15 to 30 mL) additional warm water and stir again until smooth.

4. In a large pan, fry falafel balls in 2 inches (5 cm) of oil at 350°F (180°C), until crisp and golden; about 4 to 6 minutes, turning every couple of minutes. Drain on paper towel.

5. Slice avocados in half and remove pits. Place 1 falafel ball in divot on each half of avocado. Serve with tahini sauce and extra falafel balls (makes about a dozen balls) on the side.
SHARE