Avocado Toasts with Radishes & Trout Roe
Début de l'été 2018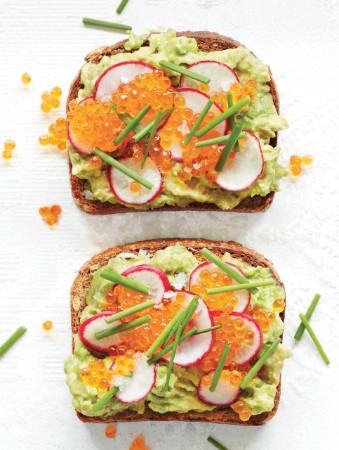 Avocado Toasts with Radishes & Trout Roe
Début de l'été 2018
BY: Eric Vellend
Creamy avocado, crisp radishes and briny fish roe are an incredible trio on top of a hearty square of rye bread. It can be cut and served as an appetizer, or as an open-face sandwich with a green salad for Sunday brunch. To make this vegetarian, omit the fish eggs and top with diced pickled beets instead.
1 ripe avocado
1 tbsp (15 mL) fresh lemon juice
Salt and freshly ground pepper to taste
4 slices seeded rye bread from a small loaf
2 radishes, thinly sliced on mandoline
8 tsp (40 mL) trout or salmon roe
1 tbsp (15 mL) chives cut in ½ inch (1 cm) lengths
Coarse sea salt to taste
1. Peel and seed avocado. Transfer flesh to bowl. Add lemon juice, salt and pepper. Roughly mash with fork.

2. Preheat broiler to high.

3. Place bread on a foil-lined heavy-duty baking tray. Broil 4 inches (10 cm) from heat until lightly toasted, 1 to 2 minutes per side.

4. Spread avocado mixture generously on top of bread. Top with radish slices. Spoon fish roe over radishes. Sprinkle with chives and lightly with sea salt.
SHARE