Avocado Mousse with Spiced Shrimp
Autumn 2016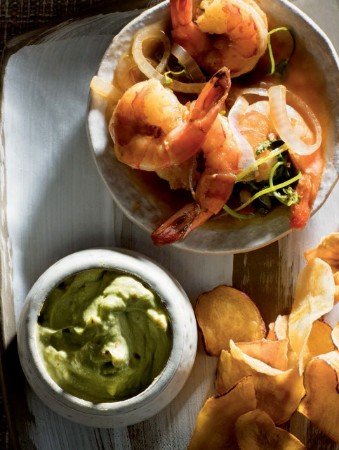 Avocado Mousse with Spiced Shrimp
Autumn 2016
BY: Lucy Waverman
This is an unconventional mousse with lots of flavour. The shrimps are served separately. Guests can dollop a little mousse onto a vegetable or tortilla chip and top with shrimp. This could also be served as a first course by frying corn tortillas, breaking them up and plating with the mousse and the shrimps (top with some radish sprouts for a pretty garnish). Argentinian shrimp, which is becoming more available, is sweeter than other types of shrimp and makes a good choice for this dish. Place plastic wrap right on top of the mousse to keep the colour.
SHRIMP
Salt
1 lb (500 g) large shelled shrimp
½ cup (125 mL) white wine
½ cup (125 mL) water
½ cup (125 mL) sliced red onion
¼ cup (60 mL) cilantro leaves and stalks
2 garlic cloves, sliced
1 tsp (5 mL) Mexican chili powder
1 tsp (5 mL) ground cumin
½ tsp (2 mL) ground coriander
½ tsp (2 mL) chili flakes

MOUSSE
¼ cup (60 mL) mascarpone or cream cheese
¼ cup (60 mL) finely chopped red onion
½ tsp (2 mL) chili flakes
2 tsp (10 mL) ground cumin
2 tbsp (30 mL) lime juice
2 ripe avocadoes
Salt

GARNISH
2 tbsp (30 mL) cilantro leaves
Vegetable chips or tortilla chips
1 Salt shrimp lightly and set aside. Bring wine, water, red onion, cilantro, garlic, chili powder, cumin, coriander and chili flakes to boil in a wide pot. Add shrimp, reduce heat to medium-low and cook shrimp until pink and slightly curled, about 3 minutes. Let cool in liquid.

2 Combine mascarpone, red onion, chili flakes, cumin and lime juice in a bowl. Cut avocadoes in half lengthwise, remove pit and use a spoon to scoop flesh into mascarpone bowl. Beat with an electric beater until combined and fluffy. Season well with salt. Pile into a serving bowl and garnish with cilantro. Serve with shrimp and vegetable chips.
SHARE