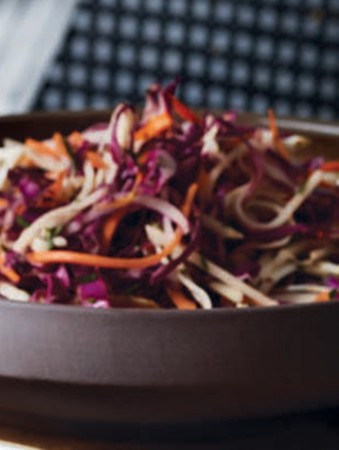 BY: Eric Vellend
A fall spin on a summer favourite finds red cabbage, root vegetables and tart apple in a tangy dressing sweetened with honey and nutty with walnut oil. It can be mixed ahead of time—the cabbage will stain the other vegetables— but make sure to serve it straight from the fridge to maintain its fresh crunch.
1 tbsp (15 mL) mayonnaise
1 tbsp (15 mL) grainy mustard
2 tsp (10 mL) Dijon mustard
2 tsp (10 mL) honey
¼ cup + 2 tbsp (90 mL) apple cider vinegar
¼ cup (60 mL) roasted walnut oil
Salt and freshly ground pepper to taste
1 large shallot, thinly sliced
1 lb (455 g) red cabbage, cored, thinly sliced on mandoline
¾ lb (340 g) celeriac, peeled, cut into julienne
2 medium carrots, peeled, cut into julienne
1 large Granny Smith apple, halved, cored, cut into thin strips
1½ tsp (7 mL) chopped thyme
¼ cup (60 mL) chopped flat-leaf parsley
1. In a mixing bowl, whisk mayo, mustards, honey and vinegar until honey is dissolved. Slowly whisk in walnut oil to form emulsified dressing. Season with salt and pepper. Transfer to airtight container. Refrigerate up to 1 week.
2. Soak shallot in cold water for 5 minutes. Drain and pat dry with paper towel. Place it in a large mixing bowl with cabbage, celeriac, carrots, apple and herbs. Pour dressing over vegetables and season with salt and pepper. Using tongs, mix thoroughly. Transfer to serving bowl.
SHARE