Australian Lime & Ginger-Grilled Salmon with Salad
Summer 2014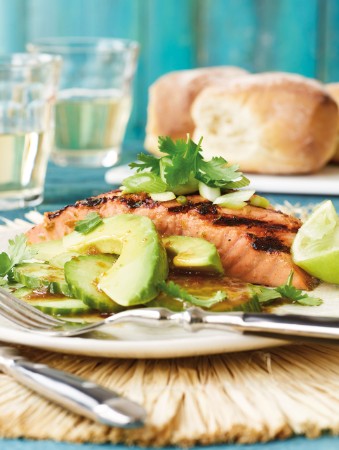 Australian Lime & Ginger-Grilled Salmon with Salad
Summer 2014
BY: Marilyn Bentz-Crowley
About a tenth of Australia's population have Asian heritage so no wonder the country's appetizing and varied cuisine reflects many flavours from this area. For a hot entrée, serve with Thai Jasmine rice.
SALMON
6 to 8 skinless salmon fillets, each 6 to 8 oz (175 to 250 g)
1 large lime
1 tbsp (15 mL) finely grated fresh ginger
1 tbsp (15 mL) tamari or soy sauce
1 tbsp (15 mL) mirin or dry sherry
2 garlic cloves, minced
2 tbsp (30 mL) peanut or other vegetable oil

SALAD
1 to 2 large English cucumbers
2 large limes
2 tbsp (30 mL) peanut or other vegetable oil
½ tsp (2 mL) finely grated fresh ginger
2 tsp (10 mL) tamari or soy sauce
1½ tsp (7 mL) liquid honey
½ tsp (2 mL) dark sesame oil
2 medium to large avocados, ripe but firm
2 green onions, thinly sliced
¼ cup (60 mL) finely chopped fresh coriander or parsley
1 If skin and brown fat are present, use a very sharp knife to remove skin and most of brown fat from salmon. Lay salmon in a glass dish large enough to accommodate in 1 layer.

2 Zest lime and squeeze 2 tbsp (30 mL) juice; set zest aside. Stir juice with ginger, tamari, mirin and garlic. Pour over fish; let marinate 30 minutes. Set oil aside, with a small brush on hand.

3 To prepare salad, diagonally cut cucumber less than ¼ inch (5 mm) thick; allow 5 to 6 slices per serving. Cut 1 lime into wedges to use as garnish; zest and squeeze juice from remaining lime. Stir oil with juice, zest, ginger, tamari, honey and sesame oil; set aside. Slice avocados.

4 To grill salmon, preheat barbecue to medium-hot.

5 Drain and discard marinade. Brush bright pink tops of salmon with reserved oil; place, oiled side down, on grill for 4 to 5 minutes or until brown grill marks are evident. Turn salmon; continue grilling for another 4 to 5 minutes or until a fork used to separate the flakes of flesh show a slightly undercooked centre for medium or opaque for well-done. Remove from heat, top with a pinch of reserved lime zest.

6 When ready to serve, divide cucumbers among plates. Top with some of avocado slices; drizzle with some of dressing. Place salmon on each plate; sprinkle with green onion and coriander. Add a lime wedge for each person to squeeze over the salmon. Soft rolls such as potato rolls or baps are a lovely accompaniment.
SHARE