Australian Carpetbagger Steak
Summer 2001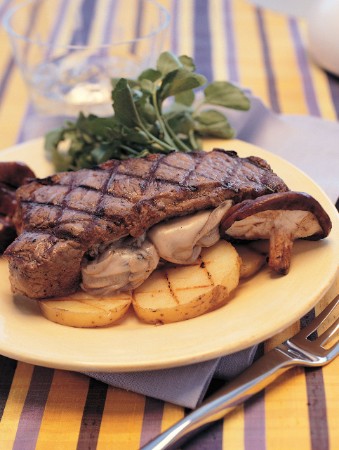 Australian Carpetbagger Steak
Summer 2001
BY: Lucy Waverman
You need thick New York sirloins to do this dish properly. How this dish came by its name is lost in time, (some say it is an American invention) but carpetbagger steaks are an Australian specialty - the word derives from the bags that people carried their valuables in when they emigrated. Serve with sautéed mushrooms and grilled potatoes.
1/4 cup (50 mL) butter
16 shucked oysters
1 tsp (5 mL) hot pepper sauce
2 tsp (10 mL) grated lemon rind
1/2 cup (125 mL) chopped chives
2 to 3 tbsp (25 to 45 mL) fresh breadcrumbs
Salt and freshly ground pepper
4 New York sirloin steaks, about 10 oz (300 g) each
2 tbsp (25 mL) vegetable oil

Garnish

1 bunch watercress
1 tbsp (15 mL) balsamic vinegar
1 tbsp (15 mL) olive oil
Salt and freshly ground pepper
1. Heat butter in skillet over medium heat. Add oysters, hot pepper sauce, lemon rind and chives. Sauté until edges of oysters begin to curl, about 1 minute. Stir in enough breadcrumbs to absorb any juices. Season with salt and pepper. Remove to plate and cool.
2. Make a pocket on the long side of the steak, opposite the fat, leaving a 1/2-inch (1-cm) border on each side. Do not cut through the fat side. Stuff 4 oysters into each steak. Use a toothpick to skewer together the opening.
3. Preheat grill to high. Brush steak with oil and season with salt and pepper. Place on grill. Grill 4 to 5 minutes per side, turning once, or until juices just begin to appear on top. The steak should be medium-rare for the best taste.
4. While steak is cooking, trim stems from watercress and toss leaves with vinegar and oil. Season with salt and pepper. Place on plates and serve alongside the steak.
SHARE