Grilled Eggplant & Tomatoes with Homemade Labneh
Été 2015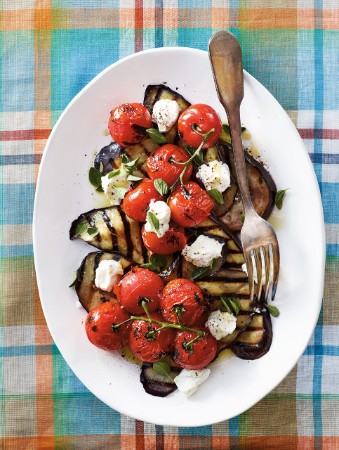 Grilled Eggplant & Tomatoes with Homemade Labneh
Été 2015
BY: Amy Rosen
Silky slices of roasted eggplant and charred cherry tomatoes, simply dressed with olive oil and fresh oregano, make for a lively vegetable side. Adding fresh labneh (homemade yogurt cheese) to the mix will make yours the most coveted barbecue invitation on the block.
½ tsp (2 mL) sea salt
3 cups (750 mL) 2% plain yogurt
1 tsp (5 mL) lemon zest
1 large eggplant, thinly sliced lengthways
3 tbsp (45 mL) olive oil, plus extra for drizzling
1 pkg (340 g) campari tomato on the vine
Kosher salt and pepper to taste
2 tbsp (30 mL) fresh oregano leaves
1 Add sea salt to container of yogurt and mix well. Place yogurt mixture in the middle of a large piece of cheesecloth that has been folded over once for thickness, at the bottom of a medium bowl. Carefully bring up the sides of the cheesecloth around the yogurt, making a leak-free pouch. Secure the top with string, a kitchen clip or twist-tie, and then hang off a wooden spoon balanced over a bowl in the refrigerator for 24 hours (the bowl will catch the whey). You can also tie the cheesecloth pouch right to a rack in there frigerator and place a bowl on the shelf beneath to catch the whey. After 24 hours, mix in zest. Chill for 20 minutes, then roll labneh into 1-inch (2.5‑cm) balls. Refrigerate until using.

2 Heat grill to medium-high, approximately 400°F (200°C).

3 Generously brush eggplant slices on both sides with oil. Lightly brush tomatoes on the vine with oil. Season with salt and pepper.

4 Grill eggplant slices 2 to 3 minutes on each side, or until cooked through and tender. Grill tomatoes until warmed through and slightly charred, but not bursting, about 2 minutes.

5 Arrange grilled eggplant and tomatoes on a platter and dot with labneh balls. Drizzle with more olive oil and season with salt and pepper. Scatter fresh oregano leaves overtop and serve at once.
SHARE