Asparagus and Tarragon-Goat Cheese Tart
Printemps 2017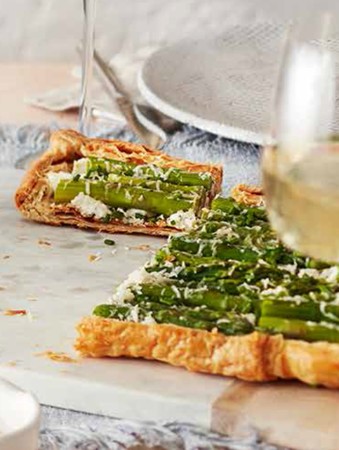 Asparagus and Tarragon-Goat Cheese Tart
Printemps 2017
BY: Julia Aitken
An elegant, tasty, meatless main option for guests.
1 pkg (450 g) frozen pre-rolled puff pastry sheets, thawed
1 egg, beaten
2 lbs (1 kg) asparagus
Kosher salt to taste
8 oz (250 g) soft goat cheese
2 tbsp (30 mL) finely chopped chives
2 tsp (10 mL) finely chopped tarragon
Freshly ground black pepper to taste
1 tbsp (15 mL) olive oil
¼ cup (60 mL) finely grated pecorino
Finely chopped chives for garnish
1 Adjust oven rack to lower-middle position and preheat oven to 425°F (220°C). Line a large baking sheet with parchment paper.

2 Unroll both sheets of puff pastry. Arrange on parchment with 1 end of 1 sheet overlapping the other by about ½ inch (1 cm). Brush edges with beaten egg and seal well.

3 Brush a ½-inch (1-cm) border of beaten egg all around the rectangle of pastry. Fold in edges by ½ inch (1 cm) and brush folded border with beaten egg. Prick pastry all over with a fork, avoiding border.

4 Bake until pastry is starting to turn golden, about 12 minutes. Reduce oven temperature to 350°F (180°C). Bake until golden and crisp, about 12 minutes. 5 Remove pastry from oven and slide pastry, along with parchment, onto a wire rack. Gently press down on pastry with back of a spoon to flatten. Set aside to cool to room temperature.

6 Trim asparagus by snapping off ends of stalks where they break naturally. Discard ends. Trim stalks so all are 4 inches (10 cm) long (reserve cut bits for soups or stir‑fries).

7 In a large skillet of boiling salted water, blanch asparagus for 2 minutes. Drain and refresh under cold running water. Spread asparagus out in a single layer between 2 clean tea towels. Pat dry.

8 Increase oven to 425°F (220°C). In a medium bowl, with a fork mix together goat cheese, chives, tarragon and pepper to taste.

9 Slide pastry, along with parchment, back onto baking sheet. Crumble goat cheese mixture evenly over pastry, avoiding border. Arrange asparagus in 2 even rows on top of goat cheese. Brush asparagus with oil, then sprinkle evenly with pecorino.

10 Bake until cheeses have melted and edges of pastry are deep golden brown, 12 to 14 minutes. Let stand at room temperature for 5 to 10 minutes, then slide onto a cutting board. Sprinkle with chives. Use a pizza cutter to cut into slices or squares.
SHARE