Asparagus Crostini with Grapefruit & Mint
Early Summer 2018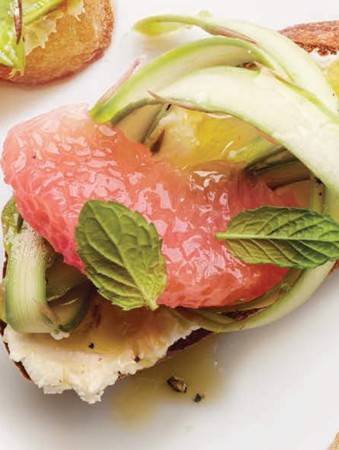 Asparagus Crostini with Grapefruit & Mint
Early Summer 2018
BY: Eric Vellend
Omit pine nuts and lemon zest. Peel a small grapefruit with a sharp knife. Cut 12 segments without any pith. Top each crostini with 1 segment and a few mint leaves.
ASPARAGUS CROSTINI WITH MASCARPONE, PINE NUTS & LEMON ZEST

Walking a fine line between rich and light, this crostini is like salad on toast. Thick, creamy mascarpone is dead easy to make and infinitely better than the stuff from a tub. Since a lot of heavy cream has additives to prolong shelf life, use organic cream for the best results. To toast pine nuts, dry-roast them in a small frying pan over medium heat for about 5 minutes.

MASCARPONE
2 cups (500 mL) organic heavy cream
1 tbsp (15 mL) strained fresh lemon juice
Large pinch fine sea salt
6 thick asparagus spears, trimmed
1½ tsp (7 mL) extra virgin olive oil
¾ tsp (4 mL) fresh lemon juice
Salt and freshly ground pepper to taste
12 slices baguette, cut ½ inch (1 cm) thick on bias
2 tbsp (30 mL) pine nuts, lightly toasted
2 tbsp (30 mL) finely sliced lemon zest
Coarse sea salt for serving
1. For the mascarpone, pour cream into a medium saucepan fitted with a candy thermometer. Place over medium-low heat and stir occasionally. When it reaches 180°F (82°C)—this could take 20 to 25 minutes—turn heat down to low and stir in lemon juice and salt. Cook for 5 minutes, maintaining a temperature between 180°F (82°C) and 190°F (88°C)—you may have to take it off the burner to achieve this. Remove from heat and cool 30 minutes.

2. While cream is cooling, line a sieve with a quadruple layer of cheesecloth. Rinse cloth with water, squeeze dry and reline sieve. Place over a bowl. Pour cooled cream mixture into sieve. Cover and refrigerate 24 hours. Unwrap cheese and discard cheesecloth. (Mascarpone will keep, covered and refrigerated, for 2 weeks).

3. Using a sharp Y-peeler with firm pressure, cut asparagus into thin slices lengthwise. Place in a bowl. Toss with olive oil, lemon juice, salt and pepper.

4. Preheat broiler to high.

5. Place baguette slices on a foil-lined heavy-duty baking tray. Broil 4 inches (10 cm) from heat until lightly browned, 1 to 2 minutes per side.

6. Spread mascarpone generously on tops of crostini. (Save rest for another use.) Top with asparagus. Sprinkle with pine nuts and lemon zest. Sprinkle lightly with sea salt.
SHARE