Asparagus & Mushroom Stir Fry
Début de l'été 2002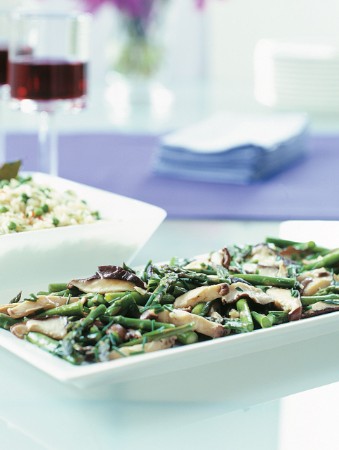 Asparagus & Mushroom Stir Fry
Début de l'été 2002
BY: Lucy Waverman
A simple stir-fry that can be done ahead of time and served at room temperature or reheated.
2 lb (1 kg) thin asparagus
10 shiitake mushrooms, stemmed
2 tbsp (25 mL) olive oil
1 tsp (5 mL) chopped garlic
1/4 cup (50 mL) chicken stock
1 tbsp (15 mL) soy sauce
1 tbsp (15 mL) balsamic vinegar
Salt and freshly ground pepper
1/2 cup (125 mL) chopped chives
1. Trim asparagus and break off hard end. Cut in 2-inch (5-cm) lengths. Slice shiitake mushrooms.
2. Heat oil in skillet over medium-high heat. Add garlic and stir-fry for 30 seconds. Add asparagus and mushrooms and stir-fry for 1 minute or until mushrooms are slightly limp. Stir in stock, soy and vinegar.
3. Bring to boil, cover pan and steam until asparagus is tender, about 2 to 3 minutes depending on thickness of asparagus. Uncover and season with salt and pepper. Stir in chives.
SHARE