Asian-Style Slaw with Chinese BBQ Pork and Plums
Summer 2002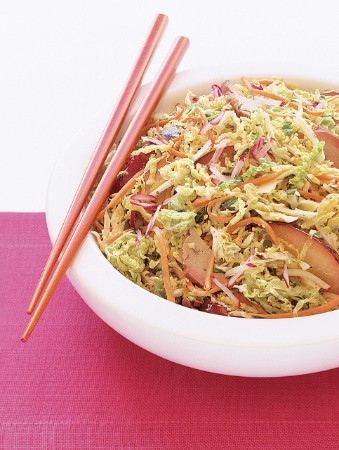 Asian-Style Slaw with Chinese BBQ Pork and Plums
Summer 2002
BY: Heather Trim
Barbecued pork is readily available in Chinatown, or try a Chinese restaurant. Any leftover pork can be used in your favourite stir-fried rice or vegetable dish.
2 tbsp (25 mL) lime juice
2 tbsp (25 mL) vegetable oil
2 tsp (10 mL) fish sauce
2 tsp (10 mL) hoisin sauce
2 tsp (10 mL) Chinese chili-garlic sauce
6 cups (1.5 L) shredded green cabbage
1 medium carrot, coarsely grated
1 medium radish, cut into julienne strips
1/2 lb (250 g) Chinese barbecued pork
2 ripe but firm plums, preferably yellow or red
1/4 cup (50 mL) finely chopped coriander
Salt to taste
1. In a small bowl, whisk lime juice with oil, fish sauce, hoisin and chili-garlic sauce.
2. Place cabbage, carrot and radish in a large bowl. Cut pork into bite-size julienne strips, discarding any larger pieces of fat. Cut plums in half and remove pit. Slice fruit into very thin wedges. Add pork and plums to cabbage mixture. Toss to combine. Pour dressing over top and stir to mix well. Stir in coriander. Taste and add salt if necessary.
SHARE