Asian-Spiced Chicken with Broccolini
Holiday 2017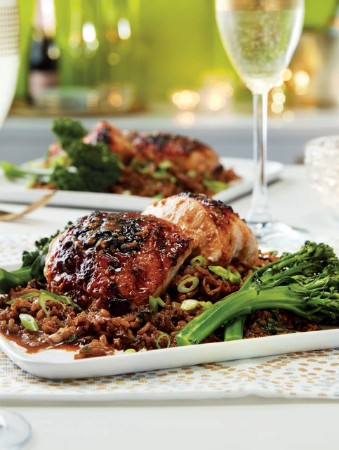 Asian-Spiced Chicken with Broccolini
Holiday 2017
BY: Lucy Waverman
Roasted chicken with a crisp skin and a miso-influenced sauce is an easy and tasty dish. Shiro miso is white miso and it is not as salty as the darker kinds. Served with fried rice with a ton of mushrooms and bright green broccolini, it becomes a star performer.
MARINADE
1 tbsp (15 mL) soy sauce
1 tbsp (15 mL) yuzu juice or lime juice
1 tsp (5 mL) sesame oil
1 tsp (5 mL) chopped garlic
1 tbsp (15 mL) chopped ginger
1 tsp (5 mL) honey
1 tsp (5 mL) sriracha
3 lbs (1.5 kg) chicken pieces: legs, thighs and breasts or all thighs on the bone
2 tbsp (30 mL) vegetable oil

SAUCE
1 cup (250 mL) chicken stock
1 tbsp (15 mL) shiro miso
1 tbsp (15 mL) balsamic vinegar

VEGETABLES
2 bunches broccolini
1 tbsp (15 mL) soy sauce
Salt and freshly ground pepper
1. Combine soy sauce, yuzu juice, sesame oil, garlic, ginger, honey and sriracha in a large bowl. Add chicken and toss to coat in the marinade. Leave to marinate for 1 hour on the counter or 4 hours refrigerated.

2. Preheat oven to 425°F (220°C).

3. Brush a roasting pan with the vegetable oil, Place chicken pieces in pan. Roast for 30 to 40 minutes or until chicken is just cooked through and no pink juices occur.

4. Remove chicken to a serving dish and keep warm. Add chicken stock to roasting pan and place over medium heat. Scrape browned bits with a wooden spoon until dissolved. Whisk in miso until smooth and bring mixture to a boil. Add balsamic and simmer for 2 minutes. Drizzle sauce over chicken or serve separately.

5. Bring a large pot of water to a boil and season well with salt. Add broccolini and boil until crisp-tender, about 1 to 2 minutes. Remove and rinse with cold water. Season with soy sauce, salt and pepper, and serve with the chicken.
SHARE