Asian Roast Pork Tenderloin with Baby Bok Choy & Crispy Noodles
Automne 2016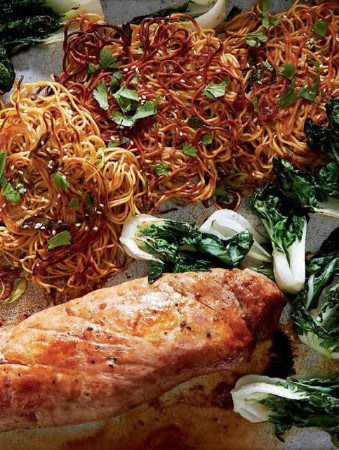 Asian Roast Pork Tenderloin with Baby Bok Choy & Crispy Noodles
Automne 2016
BY: Eshun Mott
Roast pork tenderloin, bok choy and crispy noodle cakes not only taste great together, but are easily made on a single baking sheet, making for an impressive presentation. You can make a single noodle cake and cut into wedges or form individual noodle cakes if desired.
7 oz (210 g) fresh chow mein noodles
2 tbsp (30 mL) hoisin sauce
1 tbsp (15 mL) soy sauce
½ tsp (2 mL) Asian chili sauce (sriracha)
1½ lbs (750 g) pork tenderloin
Salt and black pepper
2 tbsp (30 mL) vegetable oil
8 oz (250 g) baby bok choy, halved
2 tbsp (30 mL) sesame oil
1 tbsp (15 mL) chopped garlic
1 large egg, beaten
¾ cup (175 mL) thinly sliced green onions
2 tsp (10 mL) toasted sesame seeds
2 tbsp (30 mL) chopped cilantro
1 Preheat oven to 450°F (230°C).

2 Place noodles in a heatproof bowl and cover with boiling water. Let stand 2 minutes to soften. Drain.

3 Combine hoisin sauce, soy sauce and Asian chili sauce. Pat pork dry with paper towels and season with salt and pepper. Heat a large frying pan over high heat. Add 1 tbsp (15 mL) vegetable oil and sear pork for 4 minutes or until browned all over, turning every minute. Remove from heat, transfer to a large rimmed baking sheet and brush top and sides of pork with 1 tbsp (15 mL) of sauce mixture. Place in the oven and roast for 10 minutes.

4 Toss bok choy with remaining 1 tbsp (15 mL) of vegetable oil, and season with salt. Reserve.

5 Combine remaining sauce mixture with sesame oil, garlic and egg. Add noodles and green onion, season well with salt and toss to coat. Spread noodle mixture into 1 large or a few small cakes on empty part of baking sheet and return to oven. Cook 5 minutes longer, then use a large spatula to flip noodle cake on tray. Add bok choy to empty spaces on the tray and bake 5 to 7 minutes longer or until pork has reached an internal temperature of 140° to 145°F (60° to 63°C), noodle cake is crispy, and bok choy is wilted and lightly browned. Remove from oven, let pork rest for a few minutes before slicing, and cut noodle cake into wedges and sprinkle with sesame seeds and cilantro.
SHARE