Asian Pork with Sriracha Mayonnaise & Broiled Green Onions
Hiver 2015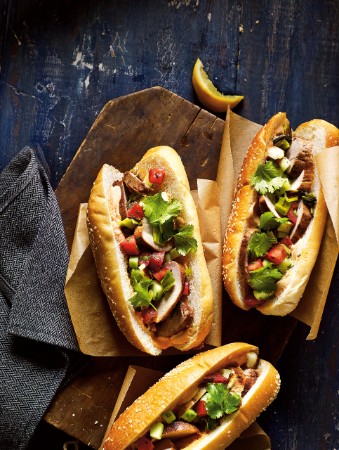 Asian Pork with Sriracha Mayonnaise & Broiled Green Onions
Hiver 2015
BY: Tonia Wilson-Vuksanovic
Sriracha is a tangy chili sauce made from puréed chili peppers, vinegar, sugar and garlic. It adds spiciness and depth of flavour to all it touches. It's combined here with the mayonnaise to add spice and personality.
1 tbsp (15 mL) sesame oil
1 tbsp (15 mL) soy sauce
1 tbsp (15 mL) lime or lemon juice
1 tbsp (15 mL) + 2 tsp (10 mL) vegetable oil
½ tsp (2 mL) sugar
1½ lbs (750 g) pork tenderloin, cut in half
8 green onions, ends trimmed and halved lengthwise
Salt to taste
1 cup (250 mL) peeled, diced English cucumber
1 large plum tomato, cored and diced
¼ cup (60 mL) fresh cilantro, coarsely chopped
1 tbsp (15 mL) rice wine vinegar
¼ cup (60 mL) mayonnaise
2 tsp (10 mL) Sriracha sauce, or to taste
4 large submarine-style buns
1 In a glass baking dish, stir together sesame oil, soy sauce, lime juice, 1 tbsp (15 mL) vegetable oil and sugar. Add pork pieces and turn to coat. Cover and refrigerate for at least 2 hours to marinate.

2 Heat oven to 375°F (190°C).

3 Cover pork with foil. Cook pork until internal temperature reads 150°F (65°C), about 40 minutes, depending on thickness. Set aside and let rest.

4 Heat broiler to high.

5 Place onions on a baking sheet and drizzle with 2 tsp (10 mL) vegetable oil. Season to taste with salt. Broil on the middle rack for 1½ minutes and flip over; broil the second side until onions are nicely browned and softened, about another minute. Let cool slightly and finely chop.

6 In a small bowl, stir together cucumber, tomato, cilantro and vinegar.

7 In another small bowl stir together mayonnaise and Sriracha sauce.

8 To assemble the sandwich, slice the buns and generously smear mayonnaise on both sides of bread. Slice the pork and fill buns with pork slices, top with cucumber mixture and a generous amount of broiled onion.
SHARE