Asian Pork Belly with Rhubarb Chutney
Printemps 2015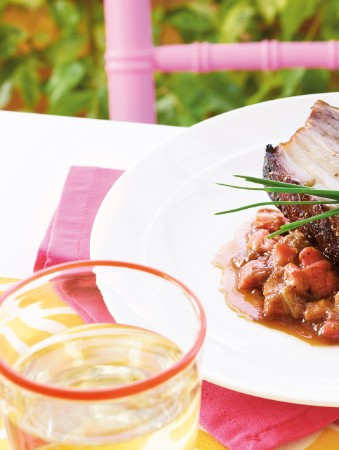 Asian Pork Belly with Rhubarb Chutney
Printemps 2015
BY: Lucy Waverman
Pork belly is fatty, which is one of the reasons that people love it. If you want to remove more fat, cool and remove from the liquid. Cover with foil or parchment and weight it down with some tin cans. Press for a couple of hours and some of the fat will release. Discard the fat. The savoury chutney with a hint of sweetness is an excellent condiment to have in the refrigerator. Brush on ribs or chicken for the barbecue or serve with cheese or fried chicken.
2 tbsp (30 mL) light soy sauce
2 tbsp (30 mL) balsamic vinegar
½ cup (125 mL) sugar
4 slices ginger
3 star anise
6 cardamom pods
2 lbs (1 kg) rhubarb, cut into 2-inch (5-cm) pieces
1 bird's eye chili
½ cup (125 mL) water
3 lbs (1.5 kg) pork belly
2 tbsp (30 mL) brown sugar
1 Preheat oven to 450°F (230°C).

2 Combine soy, balsamic vinegar, sugar, ginger, star anise, cardamom pods, rhubarb, chili and water in a medium pot to make chutney. Bring to boil, then simmer for 10 minutes or until flavours are combined.

3 Slice cross-hatches into the fat of the pork belly. Be careful not to slice into the meat. Place in a heavy pot, fat-side up. Bake uncovered for 20 minutes or until fat starts to run. Pour off fat.

4 Reduce oven heat to 275°F (140°C).

5 Reserve ½ cup (125 mL) chutney and pour remaining over pork belly. Cover and return to oven. Bake for 2½ to 3 hours or until pork is very tender. Remove from oven and let cool in sauce. Refrigerate for 2 hours or longer, then remove chilled fat from sauce, reserving sauce.

6 Return oven to 450°F (230°C).

7 Place belly on a baking sheet, fat-side up, and pat brown sugar on top. Bake for 8 to12 minutes, or until edges are crispy and pork is caramelized.

8 Slice pork belly against the grain. Mix remaining chutney with the pork sauce, reheat, and serve with sliced pork. Rice or steamed buns are good accompaniments.
SHARE