Asian Edamame Dip with Wonton Chips
Holiday 2010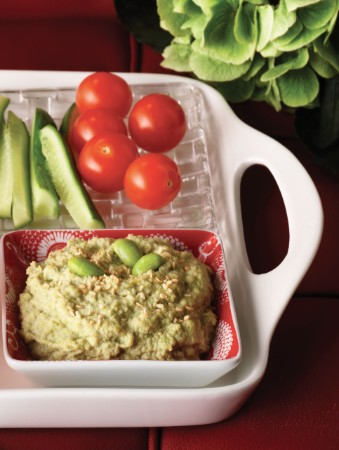 Asian Edamame Dip with Wonton Chips
Holiday 2010
BY: Julia Aitken
Use a mixture of black and white sesame seeds on the wonton chips for a dramatic look. Brighten up the platter by adding a range of colourful vegetables along with the wonton chips, like red and yellow sweet pepper strips, cucumber batons, drained whole baby corn, and whole radishes and cherry tomatoes.
WONTON CHIPS
24 wonton wrappers
Olive oil spray
1 tbsp (15 mL) sesame seeds and/or celery seeds
Kosher salt and freshly ground black pepper

DIP
2 cups (500 mL) frozen edamame beans
1 clove garlic, peeled and quartered lengthwise
2 green onions, sliced
1/2 tsp (2 mL) grated lime zest
2 tbsp (25 mL) freshly squeezed lime juice
2 tbsp (25 mL) mayonnaise
1 tbsp (15 mL) sesame oil
1 tbsp (15 mL) soy sauce
1 tbsp (15 mL) white miso paste
1 tsp (5 mL) minced fresh ginger
1 tsp (5 mL) wasabi
Toasted sesame seeds, for garnish
Vegetables for dipping (see above)
1 For wonton chips, preheat oven to 350°F (180°C). Line 2 large baking sheets with parchment paper.

2 Stack wonton wrappers and cut in half diagonally. Arrange wrappers in a single layer on prepared baking sheets. Spray lightly with olive oil spray. Sprinkle evenly with sesame seeds and/or celery seeds, salt and pepper. Bake for about 6 minutes until golden and crisp (watch carefully; chips burn easily). Let cool completely on a wire rack.

3 For dip, add edamame beans and garlic to a saucepan of boiling, salted water. Bring water back to a boil. Cook for about 5 minutes, until beans are tender-crisp. Drain well, reserving beans and garlic.

4 Reserving 3 edamame beans for garnish, put remaining beans in a food processor with garlic, green onions, lime zest and juice, mayonnaise, sesame oil, soy sauce, miso paste, ginger and wasabi. Pulse until smooth, scraping down sides of food processor bowl once or twice.

5 Scrape dip into a 2-cup (500-mL) serving bowl. Garnish with reserved edamame beans and sprinkle with toasted sesame seeds. Serve with wonton chips and vegetables for dipping.
Makes about 11/2 cups (375 mL) dip; 48 wonton chips
SHARE