Asian Chicken on Noodle Nests with Sparkling Chardonnay
Spring 2006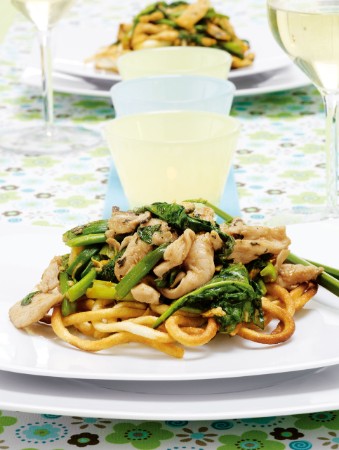 Asian Chicken on Noodle Nests with Sparkling Chardonnay
Spring 2006
BY: Lucy Waverman
Use a medium curry paste, as it best balances the sweetness of the hoisin sauce.
Marinade
2 tsp (10 mL) vegetable oil
2 tbsp (25 mL) soy sauce
½ tsp (2 mL) sugar
1 tbsp (15 mL) white wine
1 tbsp (15 mL) cornstarch
1 tsp (5 mL) Asian chili sauce

Final Seasoning Sauce
1 tbsp (15 mL) rice vinegar
1 tbsp (15 mL) Indian curry paste
2 tbsp (25 mL) hoisin sauce
1 tbsp (15 mL) soy sauce
1 tsp (5 mL) sugar
¼ cup (50 mL) chicken stock or water

Noodle Nest
8 oz (250 g) fresh Chinese noodles
Salt and freshly ground pepper
1/3 cup (75 mL) vegetable oil

Chicken
12 oz (375 g) boneless, skinless chicken breast
12 green onions
1 tbsp (15 mL) vegetable oil
3 cloves garlic, peeled and sliced
One 1-inch (2.5-cm) knob of ginger, peeled and thinly sliced
6 shiitake mushrooms, stems removed and sliced
4 cups (1 L) baby spinach
2 tbsp (25 mL) chopped mint
1. Combine vegetable oil, soy sauce, sugar, white wine, cornstarch and chili sauce in a large bowl to make marinade. Reserve.

2. Combine rice vinegar, curry paste, hoisin sauce, soy sauce, sugar and chicken stock in a bowl to make the final seasoning sauce. Reserve.

3. Bring a large pot of salted water to boil. Add noodles and cook just until water comes back to boil. Drain immediately and season with salt and pepper.

4. Heat ¼ cup (50 mL) oil in a wok or skillet over high heat. When a drop of water sizzles immediately add noodles and use a spatula to pat into a round cake shape. Fry for 2 to 3 minutes or until noodles are browned on base, turn over, drizzle remaining 2 tbsp (25 mL) oil around the edge of nest and fry another 2 minutes or until second side is golden. Flip onto a parchment-paper-lined cookie sheet and keep warm. Wipe out wok with a paper towel and make stir-fry.

5. Cut chicken into thin slices against the grain and place slices in marinade. Mix well and let sit for at least 15 minutes. Drain off any remaining marinade before cooking.

6. Cut green onions into 2-inch (5-cm) diagonal pieces.

7. Heat oil in a wok on high heat until very hot. Add garlic and ginger and stir-fry for 30 seconds or until just golden, being careful not to burn. Add chicken and shiitake mushrooms and stir-fry, stirring, for 2 minutes or until just cooked. Stir in spinach and toss together.

8. Add green onions and stir-fry for about 30 seconds or until wilted. Mix in final seasoning sauce, bring to boil, sprinkle with mint and pour over noodle nest.
SHARE