Asian Chicken Noodle Soup
Winter 2007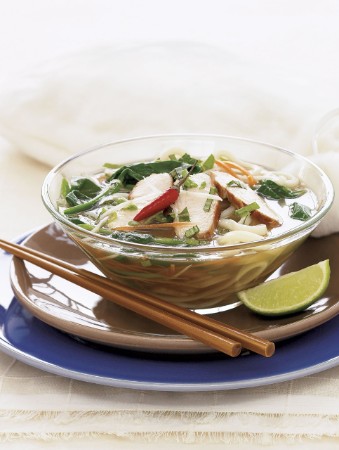 Asian Chicken Noodle Soup
Winter 2007
BY: Marilyn Bentz-Crowley
In multicultural Canada, chicken soup is no longer just '50s style. During cold and flu season, keep a pot of this healing soup on the stove, as the steam, spice and lime truly help.
Broth
2 boneless chicken breasts
2 tbsp (25 mL) peanut or canola oil, divided
2-inch (5-cm) piece of fresh ginger, sliced
2 large garlic cloves, crushed but intact
1 onion, thickly sliced
2 quarts (2 L) chicken stock or broth
½ tsp (2 mL) crushed chili flakes
1 stick lemon grass, crushed at white end
2 tbsp (25 mL) fish sauce

Soup
One 14 oz pkg fresh udon noodles
1 1/4tsp (7 mL) dark sesame oil
1 lime
6-inch (15-cm) piece white radish or 4 large red radishes, julienned
1 carrot, julienned
4 cups (1 L) baby spinach leaves
1 cup (250 mL) sliced snow peas or frozen peas
¼ cup (50 mL) each of coarsely chopped fresh mint and Thai or regular fresh basil
1 small hot pepper, seeded and very finely minced
1 to 2 green onions, very thinly sliced
1. To make broth, remove any clinging fat from chicken. Heat 1 tbsp (15 mL) oil in a large pot over medium-high heat. Add chicken; sauté 7 to 8 minutes per side or until golden. Remove; cool chicken on a plate. Reduce heat to medium. Add another tbsp (15 mL) oil to the pot; sauté ginger, garlic and onion for 5 minutes or until somewhat browned and very fragrant.

2. Pour stock over ginger and onion; add chili flakes and lemon grass. Bring to a boil. Cover; simmer 20 minutes. Cool; strain through a sieve, discarding solids. Stir in fish sauce. If serving later, cover and refrigerate for up to 3 days or freeze.

3. For soup, loosen noodles into a heatproof bowl. Cover with boiling water; soak 2 to 3 minutes. Drain; toss with sesame oil. Thinly slice chicken breasts; cut lime into wedges. Heat broth until boiling; add radishes, carrot, spinach, peas and herbs.

4. Choose a deep wide bowl for each portion of soup. Warm bowls in oven or with hot tap water. Put a small amount of hot pepper in each bowl; top with some of chicken and noodles. Pour over piping hot vegetables and broth; sprinkle with green onions. Serve immediately with chopsticks and a soup spoon. Pass remaining hot pepper, lime wedges and additional fish sauce to add to personal taste.
SHARE