Arugula, Mint and Watermelon Salad
Été 2011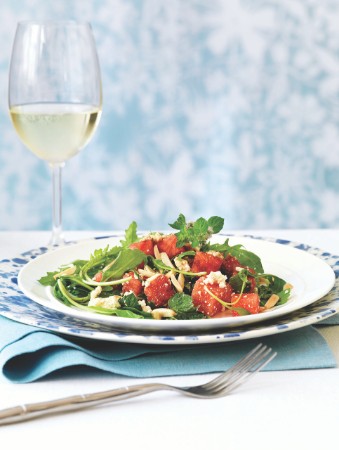 Arugula, Mint and Watermelon Salad
Été 2011
BY: Lucy Waverman
Use any kind of watermelon for this simple salad, although seedless looks best.
6 cups (1.5 L) arugula
2 cups (500 mL) diced seedless watermelon, if available
1 cup (250 mL) crumbled feta cheese
1 cup (250 mL) mint leaves

VINAIGRETTE
1 tbsp (15 mL) balsamic vinegar
¼ cup (60 mL) olive oil
Salt and freshly ground pepper
½ cup (125 mL) slivered almonds, toasted
1 Combine arugula, watermelon, feta and mint leaves in a bowl. Whisk together balsamic, olive oil and salt and pepper. Toss with salad. Lay on a platter and garnish with almonds.
SHARE