Arugula Salad with Clementines and Serrano Crisps
Holiday 2010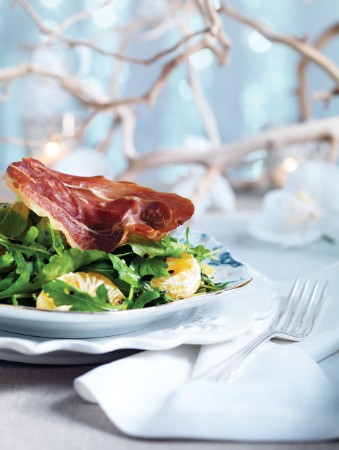 Arugula Salad with Clementines and Serrano Crisps
Holiday 2010
BY: Marilyn Bentz-Crowley
Arugula is a bitter green that is nicely complemented by citrus and other strong flavours.
3 to 4 tbsp (45 to 60 mL) olive oil, divided
6 slices Serrano or prosciutto ham
2 tbsp (25 mL) balsamic vinegar
1 small garlic clove, minced
Pinch of salt
Several grindings black pepper
3 to 4 clementines
1 box (142 g) baby arugula or baby arugula and spinach mixture
1 Preheat oven to 400°F (200°C).

2 Lightly brush a large baking tray with some olive oil. Lay ham slices flat on tray; brush with a little more oil. Bake 8 to 10 minutes or until crisp. Transfer slices to a paper towel to cool.

3 Whisk 2 tbsp (25 mL) oil with balsamic vinegar, garlic, salt and pepper. (If making ahead, store salad components separately and airtight in the refrigerator for up to a day. Cloudiness in vinaigrette disappears when brought to room temperature.)

4 When ready to serve, peel clementines, making sure to remove all white bits that cling to segments. Place arugula in a large salad bowl. Pour over dressing; toss until leaves are coated. Divide among serving plates. Garnish with several clementine segments and top with piece of crispy ham.
SHARE