Artichokes Vinaigrette
Winter 2006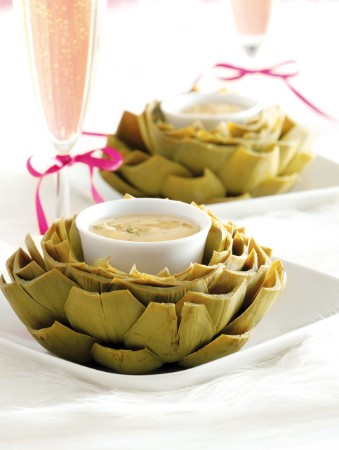 Artichokes Vinaigrette
Winter 2006
BY: Lucy Waverman
Look for compact, tightly closed artichokes that are firm and heavy for their size. Once the leaves start to separate and the head opens up like a rose, the artichoke is past its prime. Bronze-tipped leaves have been 'winter kissed' by frost and have a special flavor.
1 tsp (5 mL) Dijon mustard
1 clove garlic, minced
1 tbsp (15 mL) chopped fresh basil, or 1 tsp (5 mL) dried
2 tbsp (25 mL) red wine vinegar
½ cup (125 mL) olive oil
Salt and freshly ground pepper
2 large artichokes
½ lemon
1. Whisk together mustard, garlic, basil and red wine vinegar. Slowly whisk in olive oil. Vinaigrette mixture should thicken. Season with salt and pepper.

2. Cut off artichoke stems. Pull off small bottom leaves. With a sharp knife, cut off top quarter of artichokes. With scissors, snip pointed tops off remaining outer leaves. Rub cut edges with lemon to keep them from turning black or place in a bowl of water laced with lemon juice.

3. Bring a large pot of salted water to boil. (Do not use an aluminum pot, as it will cause artichokes to turn black.) Add lemon and artichokes to water, pushing artichokes into water if they bob up.

4. Reduce heat to medium and partially cover pot. Boil for 15 to 40 minutes, depending on size of artichoke. To test for doneness, pierce bottom with a knife (it should be tender) or pull off a leaf (it should come away easily). Drain artichokes well and pour cold water over them to stop cooking. Turn upside down on a wire rack to drain off any water. With a spoon, remove feathery chokes, leaving hearts exposed.

5. Serve artichokes hot or cold with small bowls of vinaigrette for dipping.
SHARE