Artichoke Flans
Winter 2004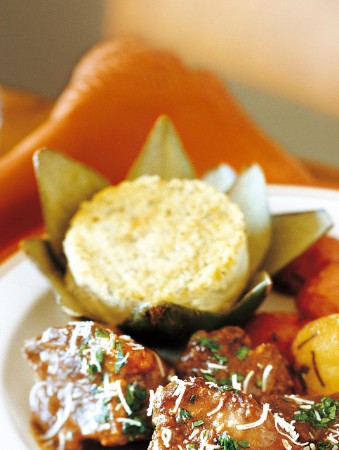 Artichoke Flans
Winter 2004
BY: Lucy Waverman
To make a pretty presentation, remove some artichoke leaves and set aside. When you turn out the mixture, use them to garnish the flans. Buy the bulk marinated or roasted artichokes from deli counters - the best have stems still attached.
4 cooked artichokes
1 cup (250 mL) whipping cream
2 egg yolks
2 eggs
½ cup (125 mL) grated Asiago cheese
2 tbsp (25 mL) chopped fresh parsley
Salt and freshly ground pepper
Extra virgin olive oil
1. Preheat oven to 400°F (200°C).

2. Place artichokes, cream, egg yolks, eggs, cheese, parsley, salt and pepper in food processor and process until smooth. Brush moulds about 1/3 cup (75 mL) in size, or mini muffin pans, with olive oil. Line moulds with upside-down artichoke petals, if you wish. Season well. Pack in artichoke mixture.

3. Place moulds in pan of boiling water - the water should come halfway up the sides of the moulds. Place in oven and bake for 30 to 35 minutes or until puffed and golden. Remove from oven, discard pan of water, and let flans cool 5 minutes. Run knife around edge to loosen and turn out onto plates.
Makes six 1/3 cup (75 mL) flans
SHARE