Argentinean Grass-Fed Rib Steak with Parsley Pesto
Winter 2015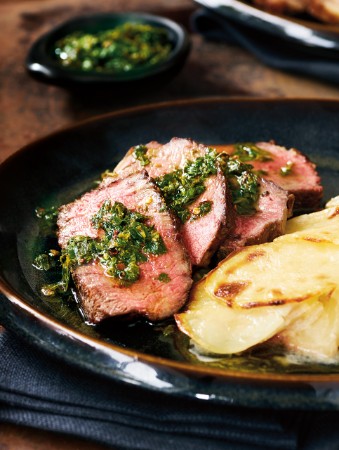 Argentinean Grass-Fed Rib Steak with Parsley Pesto
Winter 2015
BY: Lucy Waverman
Grass-fed meat is more flavourful, has less fat and is slightly chewier than corn-finished meat. It is the kind of beef most often found in Argentina. There is more and more grass-fed beef available in Ontario. The pesto is similar to a chimichurri sauce, the favourite kind of salsa to serve with meat there.
Salt and freshly ground pepper
2 grass-fed rib steaks, each 3 inches (8 cm) thick

PARSLEY PESTO
1 tsp (5 mL) chopped garlic
⅓ cup (80 mL) oregano or coriander leaves
2 cups (500 mL) Italian parsley leaves
1 tsp (5 mL) chili flakes
1 tsp (5 mL) ground cumin
2 tbsp (30 mL) red wine vinegar
½ cup (125 mL) olive oil
2 tbsp (30 mL) olive oil
1 Salt and pepper the rib steaks 2 hours before cooking.

2 Preheat oven to 450°F (230°C).

3 Place garlic, oregano, parsley, chili flakes and cumin in a food processor. Pulse until combined but with a little texture. Stir in red wine vinegar and olive oil. Reserve.

4 Heat ovenproof skillet over high heat, then add oil. When oil is hot, add steaks and sear 5 minutes per side.

5 Transfer to oven and roast for 8 to 10 minutes for medium-rare. Place on carving board and let sit for 10 minutes before carving.

6 Cut vertically into ¼-inch (5-mm) slices. Drizzle with pesto and serve with Potato Gratin (recipe follows).
POTATO GRATIN

This can be made ahead of time and successfully reheated at 350°F (180°C) for 20 minutes.

2 lbs (1 kg) Yukon Gold potatoes, peeled and thinly sliced
6 peeled garlic cloves
2 sprigs thyme
Milk to cover potatoes
1 cup (250 mL) water
Salt and freshly ground pepper
Butter for buttering dish
½ cup (125 mL) whipping cream
1 Preheat oven to 375°F (190°C).

2 Place potatoes in pot with garlic cloves and thyme. Cover with milk and then add water. Season well with salt and pepper. Bring to boil and boil for 3 to 5 minutes or until potatoes are slightly softened.

3 Butter a gratin dish. Drain potatoes, keeping the cooking liquid. Place cooked potatoes and garlic in dish. Discard thyme sprig and lightly season with salt. Add cream to cooking liquid, then pour enough cooking liquid to just cover the potatoes. Bake for 35 to 40 minutes or until potatoes are tender.
SHARE