Argentine Parilla
Été 2010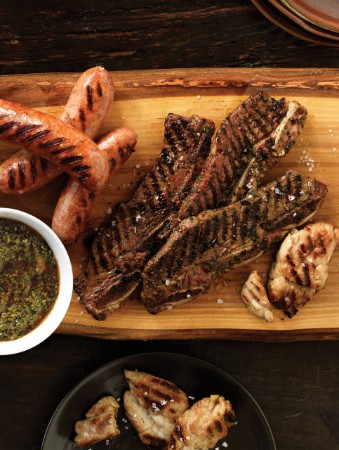 Argentine Parilla
Été 2010
BY: Lucy Waverman
Argentinian meat is cut a little differently from what we're used to but you can basically use anything you want in a parilla. I have chosen some typical meats but you can change, omit or add whatever you like. There is no seasoning except salt as the meat has a lot of taste. In the countryside, the barbecue can go on all afternoon and the meat is usually grilled slowly on dying embers. In the city the meat is grilled quickly, especially in restaurants, which have to deal with many customers' different tastes. We tried both ways and found that we preferred the high-heat method for our meats. Make sure meat is at room temperature before grilling. Bavette steak is similar to the Argentinian skirt steak that is used most frequently on the grill. If bavette is not available, flank steak substitutes very well.
1 lb (500 g) sweetbreads
2 tbsp (25 mL) lemon juice
6 pieces thinly cut short ribs
¼ cup (50 mL) Chimichurri Sauce (recipe below)
1½ lbs (750 g) bavette steak cut, into 6 chunks
Kosher salt to taste
6 chorizo sausages



1.  Soak sweetbreads in water with lemon juice for 2 hours. Drain. Place in a pot of cold water and bring to boil over high heat.
Reduce heat to medium-low and simmer for 10 minutes. Drain. Remove any membrane that comes away easily. Cut sweetbreads in
half lengthwise.

2.  Place short ribs in a large bowl, toss with Chimichurri Sauce and let marinate for 1 hour.

3.  Preheat grill to high.

4.  Season sweetbreads, short ribs and steak with kosher salt just before grilling. Place sweetbreads on grill and grill for 6 to 8 minutes a side or until browned and slightly crispy. Add bavette and chorizo and grill bavette for 4 to 5 minutes a side or until
medium-rare and chorizo for 4 minutes a side. Place short ribs on grill and grill for 2 minutes a side or until grill-marked but
quite rare. Place everything on a large platter and serve with remaining Chimichurri Sauce and Tomato and Onion Salad (recipe below).

Chimichurri Sauce
This recipe is adapted from Favio Barenbaum, chef and owner with his family of Sky Ranch restaurant in Toronto

1 cup (250 mL) packed fresh parsley leaves
¼ cup (50 mL) packed fresh oregano leaves
2 tbsp (25 mL) finely chopped garlic
1 tbsp (15 mL) sweet paprika
1 tsp (5 mL) hot paprika or a pinch cayenne
½ cup (125 mL) olive oil
¼ cup (50 mL) water
¼ cup (50 mL) white wine vinegar
Salt and freshly ground pepper
1.  Combine parsley, oregano, garlic, sweet and hot paprika, olive oil, water and vinegar in a food processor and process until herbs are finely chopped. Season with salt and pepper to taste.
Makes about 1½ cups (375 mL)

Tomato and Onion Salad
A traditional accompaniment to Parilla. Make it with the best tomatoes you can find.

2 lbs (1 kg) beefsteak or heirloom tomatoes, sliced
1 sweet onion, thinly sliced into rounds
¼ cup (50 mL) olive oil
2 tbsp (25 mL) sherry vinegar
Salt and freshly ground pepper
1. Combine tomatoes and onion in a bowl and drizzle with olive oil and vinegar. Season with salt and pepper and toss gently to combine.
SHARE