Arctic Char Crudo
Holiday 2012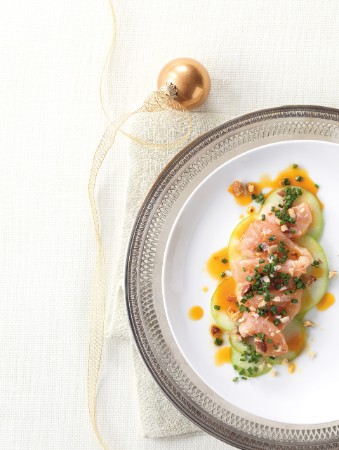 Arctic Char Crudo
Holiday 2012
BY: Christopher St. Onge
Popularized by Chef David Pasternak at New York's Esca restaurant, crudo literally means raw in Italian. Preparations are usually simple, allowing the fish to take centre stage. Because the texture of the fish is important here, it is not partially frozen for easier slicing, as with the Salmon Carpaccio. Be sure to thoroughly chill the fish in the refrigerator before slicing with a very sharp knife.
3 tbsp (45 mL) extra virgin olive oil
½ tsp (2 mL) sweet smoked paprika
¼ tsp (1 mL) hot smoked paprika
1 small Granny Smith or McIntosh apple
1 tbsp (15 mL) fresh lemon juice
6 oz (175 g) very fresh Arctic char fillet, skin and pin bones removed
2 tbsp (30 mL) finely chopped unsalted, roasted almonds
1 tbsp (15 mL) finely chopped chives
Good quality sea salt, such as Maldon
1 Warm oil in a small saucepan over medium heat until it reaches the temperature of warm bath water. Remove from heat, stir in sweet and hot paprika, and allow to steep until cooled to room temperature.

2 Slice apple in half; remove core. Thinly slice and place in a small bowl. Sprinkle lemon juice over and gently mix to evenly coat apple slices.

3 Cut fish into ¼-inch-thick (5-mm) slices. Divide apple slices between 4 chilled salad plates. Top each with an equal portion of fish, overlapping the slices slightly. Drizzle oil over leaving most of the paprika behind. Sprinkle with almonds and chives. Season with salt and serve right away.
SHARE