Apple-Walnut-Stuffed Porchetta
Automne 2013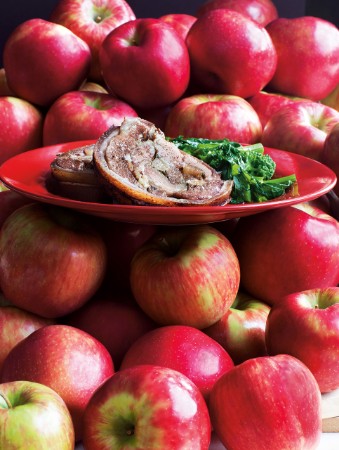 Apple-Walnut-Stuffed Porchetta
Automne 2013
BY: Victoria Walsh
This delightfully inexpensive roast is made entertaining-worthy with the simple addition of stuffing and a quick tie with butcher string, trussing it up like a proper roast. If you prefer, ask your butcher to butterfly the pork shoulder for you.
4 cups (1 L) water
¾ cup (175 mL) kosher salt
¾ cup (175 mL) granulated sugar
4 to 5 lb (2 to 2.2 kg) skin-on, bone-in pork shoulder or Boston butt or picnic roast
1 baking apple, such as Granny Smith, Honey Crisp or Northern Spy
3½ oz (105 g) walnuts, toasted
2 tbsp (30 mL) chopped fresh sage
Butcher's string
1 Prepare brine by placing 4 cups (1 L) water, salt and sugar in a small pot. Bring to a simmer until dissolved. Refrigerate for about 3 hours until chilled. Meanwhile, butterfly pork roast by cutting down centre so roast is skin-side down. Make small incisions so it is a flat piece. Using a meat mallet, pound until about 2 inches (5 cm) thick. When brine is cooled, place pork in a large bowl. Pour brine overtop. Refrigerate for 4 hours or overnight.

2 Preheat oven to 300°F (150°C). Peel apple, if you like. Cut into chunks then add to a medium bowl. Toss with walnuts and sage. Remove pork from brine. Rinse, if you like. Pat dry with paper towels. Place skin-side down on a cutting board. Scatter apple filling overtop. Carefully roll into a log. Tie with butcher's string. It doesn't need to be perfect.

3 Place in a roasting pan or baking dish. Slow-roast in centre of preheated oven for 4 to 6 hours until very tender. Remove to a carving board. Let rest for 15 minutes before carving. Slice into rounds. Delicious served with sautéed greens or roasted carrots.
SHARE