Apple-Orchard Mussels
Autumn 2009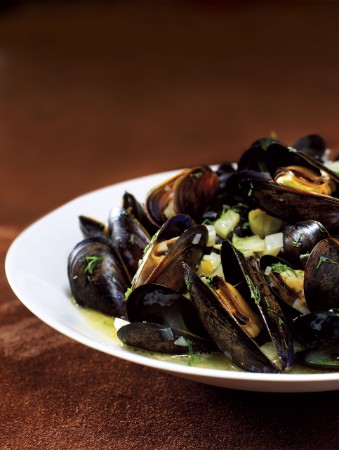 Apple-Orchard Mussels
Autumn 2009
BY: Julia Aitken
Seafood melds well with aniseed flavours and, strangely, so does cider. Here, the three combine in a new take on traditional steamed mussels. Serve with crusty bread to mop up the aromatic broth.
2 lbs (1 kg) mussels in their shells
2 tbsp (25 mL) olive oil
2 tbsp (25 mL) unsalted butter
1 cup (250 mL) diced fennel (½ small bulb; reserve feathery tops for garnish)
¼ cup (50 mL) minced shallot
2 cloves garlic, minced
2 cups (500 mL) hard cider
2 star anise
¼ tsp (1 mL) crumbled saffron threads
2 tbsp (25 mL) minced reserved fennel tops
Salt and freshly ground black pepper
1. Scrub mussels under cold running water; snip off any beards with scissors. Discard any open mussels that don't close when tapped sharply on the counter.

2. In a Dutch oven, heat oil and butter over medium heat. Add fennel and shallot; cook, stirring, for 5 to 7 minutes or until shallot and fennel are starting to soften. Add garlic; cook, stirring, for 1 minute or until fragrant. Add cider, star anise and saffron threads; bring to a boil over high heat.

3. Add mussels. Reduce heat to medium; simmer, covered, for 4 to 6 minutes or until most of the mussels have opened. Discard any that don't open.

4. Stir in fennel tops and season broth with salt and pepper to taste. Divide mussels and their broth among 4 wide soup bowls. Serve at once.
SHARE