Apple BBQ Sauce-Glazed Pork Roast Sandwiches with Apple-Golden Beet Slaw
Autumn 2014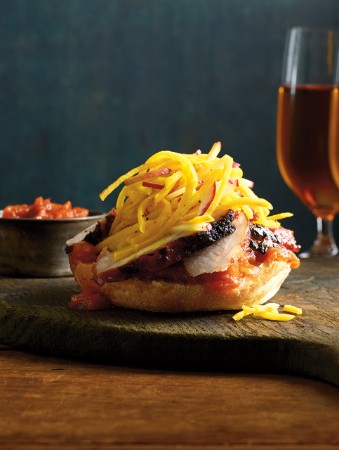 Apple BBQ Sauce-Glazed Pork Roast Sandwiches with Apple-Golden Beet Slaw
Autumn 2014
BY: Jennifer MacKenzie
This barbecue sauce, thick with apples and a punch of spice, takes pork chops and apple sauce to a whole new level. Slather the pork loin with the sauce, slow roast it for a juicy, zesty result, then create dazzling open-face sandwiches topped with a sweet and tangy slaw (and yet more apples). Julienning the beets, radishes and apples for the slaw by hand is a good way to practice your knife skills and get that restaurant-quality presentation. If you prefer, use the julienne blade on a mandolin or the shredding blade of a food processor or coarse cheese grater. Make the barbecue sauce up to a week ahead, then let the slaw marinate while the pork marinates and roasts and you have a simple dish to put together just before serving.
APPLE BARBECUE SAUCE
1 tbsp (15 mL) butter or olive oil
1 small onion, chopped
1 tsp (5 mL) salt
¼ tsp (1 mL) ground cinnamon
⅛ tsp (0.5 mL) ground cayenne pepper
Pinch ground cloves
3 McIntosh or Spartan apples, peeled and chopped, about 3 cups (750 mL)
½ cup (125 mL) packed brown sugar or honey
1 can (156 mL) tomato paste
1 cup (250 mL) water
½ cup (125 mL) cider vinegar

APPLE-GOLDEN BEET SLAW
¼ cup (60 mL) packed brown sugar or honey
½ tsp (2 mL) celery seeds
Salt and freshly ground pepper
½ cup (125 mL) cider vinegar
1 tsp (5 mL) Dijon mustard
3 golden beets, peeled and julienned
2 tbsp (30 mL) vegetable oil
3 red radishes
2 McIntosh, Spartan or Cortland apples

3 lbs (1.5 kg) boneless single loin pork roast, untied
4 large buns (triangle or oblong ciabatta
or other sturdy buns), cut in half
1 For the barbecue sauce, melt butter over medium heat in a deep pot. Sauté onion, salt, cinnamon, cayenne and cloves for about 5 minutes or until onion is softened. Stir in apples, sugar, tomato paste, water and vinegar. Bring to a boil over high heat. Reduce heat and boil gently, stirring occasionally, for about 20 minutes or until apples are soft. Crush with a potato masher for a chunky sauce or purée with an immersion blender for a smooth sauce. Return to medium-low heat and boil gently, stirring frequently, for about 15 minutes or until thick. Let cool completely (or refrigerate in an airtight container for up to 1 week).

2 For the slaw, combine sugar, celery seeds, ¼ tsp (1 mL) each of salt and pepper, vinegar and dijon in a small saucepan. Bring to a simmer over medium heat, stirring until sugar is dissolved. Remove from heat and whisk in oil. Pour over beets in a bowl and toss to coat. Cover and refrigerate for up to 1 day.

3 Pat the pork roast dry and place in a sealable plastic bag or glass dish. Add ½ cup (125 mL) of the barbecue sauce and spread to coat pork evenly. Seal bag or cover dish and marinate in the refrigerator for at least 2 hours or for up to 1 day.

4 Preheat oven to 325°F (160°C). Place a rack in a shallow roasting pan.

5 Remove roast from marinade and place on rack in roasting pan. Spread any marinade from the bag or dish over the meat. Roast for 1 hour. Brush with another ¼ cup (60 mL) barbecue sauce, then roast for about 1 hour longer, until a meat thermometer inserted in the thickest part of pork reads 150° to 155°F (65° to 68°C).

6 Transfer roast to a cutting board, tent with foil and let rest for 10 to 15 minutes.

7 Meanwhile, julienne radishes and apples and add to beets; toss to coat and season with salt and pepper to taste.

8 To assemble sandwiches, warm buns, if desired. Warm remaining barbecue sauce in a saucepan over medium heat, stirring, until simmering. Cut pork into thin slices. Place one half-bun, cut-side up, on each serving plate (trimming top halves if rounded so they sit flat). Spread with warmed barbecue sauce, then top with sliced pork. Use tongs to pile slaw on top of pork, draining slaw slightly as you remove it from the bowl.
SHARE