Ancho Chocolate Chili
Hiver 2010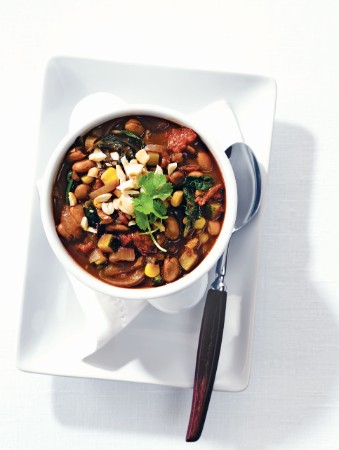 Ancho Chocolate Chili
Hiver 2010
BY: Nettie Cronish
Dried chilies offer deep, smoky and earthy flavours and are a base for many spicy sauces. They are a rich source of vitamin A. Ancho, a dried version of the fresh poblano chili, is the most commonly used chili in Mexico. It is brick red to dark mahogany in colour and medium hot. If ancho is not available, use other dried red chilies. Unsweetened chocolate is a combination of cocoa solids and cocoa butter. It is too bitter to nibble but ideal for cooking as its intense taste is not easily overpowered by competing flavours.
2 medium-sized dried ancho chilies or 1 tsp (5 mL) chili powder
½ tsp (2 mL) ground cumin
1½ tsp (7 mL) dried oregano
¼ tsp (1 mL) cinnamon
1 tsp (5 mL) sea salt
2 tbsp (25 mL) extra virgin olive oil
2 tbsp (25 mL) finely chopped garlic
1 cup (250 mL) thinly sliced red onion
1 cup (250 mL) thinly sliced shiitake mushrooms
½ cup (125 mL) corn niblets, frozen or from a can
1 cup (250 mL) zucchini, cut into ½ inch (1 cm) pieces
1 lb (500 g) Swiss chard, stalks and veins removed, chopped
½ cup (125 mL) vegetable stock (recipe below)
1 oz (30 g) unsweetened chocolate, grated
1 can (796 mL) organic diced tomatoes
1 can (398 mL) organic pinto beans, drained

1. Slice chilies lengthwise; remove stem and seed. To toast chilies, heat a small dry skillet over medium heat. Add chilies, pressing down with tongs for 1 minute, turning over and toasting for 30 seconds on other side.

2. When cool, slice into 4 pieces. Pulse in spice grinder until finely ground. Place in small bowl with cumin, oregano, cinnamon and salt.

3. In a large saucepan, heat olive oil over medium heat. Sauté garlic for 1 minute. Add onions, cook for 5 minutes. Add mushrooms, corn, zucchini, chard and ½ cup (125 mL) stock or water.Cook, covered and stirring occasionally for 5 minutes.

4. Mix in chili spice mixture. Stir in chocolate and tomatoes. Reduce heat and simmer, covered, for 15 minutes.

5. Stir in beans. Simmer for 5 more minutes or until beans are hot. Serve with garnishes such as chopped tomatoes, sour cream, chopped coriander, chopped sweet onions, cornbread and roasted salted cashews.
SHARE