Alsatian Plum Cake
Été 2016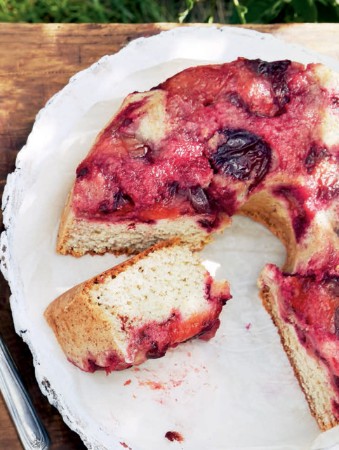 Alsatian Plum Cake
Été 2016
BY: Lucy Waverman
This mouth-watering cake is made like a sponge, but the addition of yeast as a leavener gives it a more solid texture that provides the structure to add lots of plums. Blue plums are the best for baking as far as texture and taste are concerned.
Butter to grease pan
Parchment paper
2 tbsp (30 mL) brown sugar
2 lbs (1 kg) blue plums, halved, pitted
2 cups (500 mL) all-purpose flour
2 tsp (10 mL) instant dry yeast
¼ tsp (1 mL) salt
2 tsp (10 mL) grated lemon zest
1 tbsp (15 mL) ground star anise
6 eggs
1¼ cups (310 mL) granulated sugar
1 Grease a 9-inch (23-cm) tube pan generously with butter, ensuring sides and tube are well coated. Cover the bottom of pan with buttered parchment paper and sprinkle with brown sugar. Arrange enough plum halves, skin-side down, to cover base of pan. Chop remaining plums.

2 Preheat oven to 350°F (180°C).

3 In a bowl sift together flour, yeast and salt. Stir in lemon zest and star anise.

4 Beat eggs in a stand mixer at medium speed for 30 seconds. With mixer running, add sugar in a slow, steady stream. Increase mixer speed to high and beat until mixture triples in volume, thickens slightly and is pale in colour, about 4 minutes. If using a hand mixer, this could take up to 15 minutes.

5 Gently fold flour mixture into batter until incorporated. Stir in chopped plums and pour batter into pan. Bake for 1 hour 15 minutes oruntil a toothpick comes out clean. Run a knife around tube and edges of pan to help release cake. Invert onto a cooling rack and unmould.
SHARE